Timothy Pippert, professor of sociology, has been named the inaugural holder of the Joel Torstenson Endowed Professorship, effective September 1.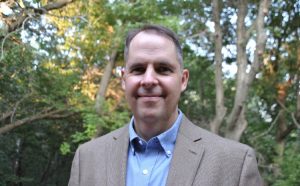 The Torstenson professorship will be held by an Augsburg faculty member with demonstrated commitment to the pedagogy, principles, and practice that characterize the work and legacy of Joel Torstenson, professor of sociology at Augsburg from 1947 to 1977. The professorship is made possible through the generosity of Mark Johnson, class of '75, who also supports the university's Torstenson Scholars program. "I had the good fortune to participate in Joel Torstenson's first Scandinavian Urban Studies term when I was a student at Augsburg. That experience was transformational, opening my eyes to a global context that has shaped my life," said Johnson, who was named to Augsburg's Board of Regents in 2018. "I'm interested in making sure that today's Auggies have the same opportunities."
Joel Torstenson '38 returned to Augsburg in 1947 to develop programs in sociology and social work at the invitation of President Bernhard Christensen. He added courses in social problems, sociological theory, race and intergroup relations, and rural sociology. In the aftermath of the assassination of Dr. Martin Luther King Jr, he created opportunities for Augsburg students to live in North Minneapolis, learning from people who lived and worked in the community, in what became known as the Metro Urban Studies Term (MUST), the first academic program offered by HECUA (Higher Education Consortium for Urban Affairs) and one of the premier interdisciplinary experiential education programs in the nation. A sabbatical in Scandinavia led Torstenson to develop the Scandinavian Urban Studies Program (SUST) referenced by Johnson above. These programs offered the foundation for urban studies, which developed some 20 years later: "The more we became involved in urban affairs," Torstenson observed, "the more we began to ask the question—what is the appropriate role of a liberal arts college located at the center of an exploding metropolis?"
The professorship is anticipated to rotate among faculty members with demonstrated commitments to place-based experiential learning; to engaging students and colleagues in interdisciplinary program-solving; to supporting partnerships with local communities that promote positive social change; and to advancing social justice through educational experiences.  
"We are so grateful to Mark Johnson for his generosity and vision in honoring the Torstenson legacy at Augsburg with this professorship," President Paul Pribbenow said. "It is particularly meaningful to me that Professor Tim Pippert will be the first incumbent of the Torstenson Endowed Professorship. I have had the privilege to teach with Tim and to witness his commitment to our students. I also am deeply impressed with Tim's scholarship, which extends the Torstenson legacy with rigor and creativity."
Pippert joined the Augsburg faculty in 1999. He holds bachelor's, master's, and doctoral degrees from the University of Nebraska-Lincoln. His teaching interests center on family systems, juvenile delinquency, homelessness and affluence, statistics, and race, class, and gender. Recent research has focused on the impact of the recent oil boom in North Dakota on local residents, relationships and survival strategies of the homeless, and the marketing of higher education. Pippert directed the Augsburg Center for Teaching and Learning from 2014 to 2019. In 2011, he received the Distinguished Contributions to Teaching and Learning—Excellence in Teaching Award.
About Augsburg
Augsburg University, celebrating its 150th anniversary, offers more than 50 undergraduate majors and 11 graduate degrees to 3,400 students of diverse backgrounds at its campus in the vibrant center of the Twin Cities and nearby Rochester, Minnesota, location. Augsburg educates students to be informed citizens, thoughtful stewards, critical thinkers, and responsible leaders. An Augsburg education is defined by excellence in the liberal arts and professional studies, guided by the faith and values of the Lutheran church, and shaped by its urban and global settings. Learn more at Augsburg.edu.