William Green, professor of history, has been named the inaugural holder of the M. Anita Gay Hawthorne professor of critical race and ethnic studies, effective September 1.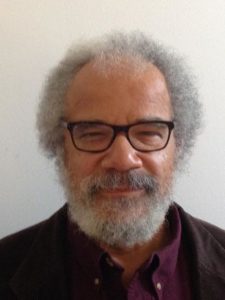 The M. Anita Gay Hawthorne Professor of Critical Race and Ethnicity Studies was created on the recommendation of a working group of students, faculty, and staff who advanced, simultaneously, a vision for the creation of a new academic department in critical race and ethnicity studies at Augsburg University. The professorship aims to honor senior faculty with an extensive record of achievement as well as a deep commitment to critical race and ethnicity studies. It seeks to embody the student and community orientation embedded in critical race and ethnicity studies. It aims to make concrete Augsburg's commitment to critical race and ethnicity studies as a formal and significant component of Augsburg's undergraduate and graduate curricula. It honors the legacy of Margaret Anita Gay Hawthorne ("Anita") who drew upon the concept of Pan-Afrikanism to create a program at Augsburg unique to any college in the country.
Anita Gay Hawthorne was the only child of Roscoe E. and Josephine L. Leonard. She held a bachelor of science degree in psychology from Southern University and a master's in counseling and psychology from Howard University. She moved to Minnesota in 1977 and met her husband Kevin Hawthorne in 1994. At Augsburg, she taught courses such as "Black in America" and "Introduction to Women's Studies." She was active in the community, serving on many boards and committees, including African American Social Services, the NAACP, and Excelsior Chorale Ensemble. She co-founded the Asili Institute for African Women in the Diaspora, was active in the Pan African Student Leadership Conference, and served as an officer for the Association of Black Psychologists.  
The professorship is anticipated to rotate among faculty with demonstrated commitments to the pedagogical approaches, research strategies, and thematic interests of critical race and ethnicity studies as well as the intentional design of the CRES department as an interdisciplinary locus. The Hawthorne professor will teach courses in subjects directly related to critical race and ethnicity studies.
President Paul Pribbenow commented on the appointment: "I have known Professor Bill Green for 15 years, beginning when he served on the search committee that brought me to Augsburg in 2006. I have witnessed Bill's remarkable scholarship, publishing important books that shine a bright light on Minnesota's historic racial inequities. At the same time, I have watched him bring a classroom to life, mentor students with care and respect, and lead his faculty colleagues in shared governance, not to mention serve the wider community as superintendent of Minneapolis schools. It is this distinguished legacy of scholarship, teaching, and service that we honor with the inaugural Hawthorne professorship."
A prolific scholar and public intellectual with a long history of community engagement, Green is regularly invited to speak on race, education, civil rights, and Minnesota history. He joined the Augsburg faculty in 1991. He holds a Bachelor of Arts degree in history from Gustavus Adolphus College and a master's degree, doctorate, and law degree from the University of Minnesota. From 1993 to 2002, he served on the Minneapolis School Board, and as chair for three terms. From 2006 to 2010, he served as superintendent of Minneapolis Public Schools. Between 2010 and 2019, Green served on the Executive Council of the Minnesota Historical Society (vice president, 2016-2018). In addition, he has published numerous articles, op-ed pieces, and book chapters on history, law, and education, as well as books on race and civil rights in Minnesota history: "A Peculiar Imbalance in Early Minnesota: 1837-1869," "Degrees of Freedom: The Origin of Civil Rights in Minnesota, 1865-1914," (winner of the 2016 Hognander Minnesota History Award), and "The Children of Lincoln: White Paternalism and the Limits of Black Opportunity in Minnesota, 1860-1876," recognized with the 2020 Hognander Minnesota History Award. Green is presently working on several new book projects: "Nellie Francis, Fighting for Gender Equality and Racial Justice," will appear in January 2021; "Strike!: Twenty Days in April When Teachers Broke the Law," expected to appear in Fall 2021; and "Uncertain Brethren: When Liberals Gathered Under the Bright North Star, 1847-1860," expected to appear in Fall 2022. He is presently working on "The Case of William R. Morris."
About Augsburg
Augsburg University, celebrating its 150th anniversary, offers more than 50 undergraduate majors and 11 graduate degrees to 3,400 students of diverse backgrounds at its campus in the vibrant center of the Twin Cities and nearby Rochester, Minnesota, location. Augsburg educates students to be informed citizens, thoughtful stewards, critical thinkers, and responsible leaders. An Augsburg education is defined by excellence in the liberal arts and professional studies, guided by the faith and values of the Lutheran church, and shaped by its urban and global settings. Learn more at Augsburg.edu.