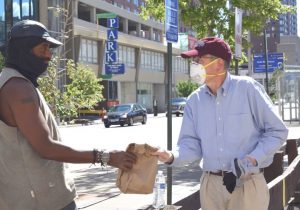 During Augsburg's annual City Engagement Day, first-year students traditionally go in groups to work in the community to launch their Augsburg education. Students, faculty, and staff this year, because of the pandemic, were encouraged to engage individually with their local communities in ways that are meaningful to them personally.
Augsburg President Paul Pribbenow delivered hot lunches to people experiencing homelessness.
"This annual City Engagement Day, I had the humbling opportunity to provide meals and clothing alongside community partners to the people experiencing homelessness and surviving the pandemic in encampments," Pribbenow said. "We are called, as Auggies, to be caring neighbors."
The Sabo Center compiled a list of local opportunities for Fall 2020 for those looking for a place to engage.
About Augsburg
Augsburg University, celebrating its 150th anniversary, offers more than 50 undergraduate majors and 11 graduate degrees to 3,400 students of diverse backgrounds at its campus in the vibrant center of the Twin Cities and nearby Rochester, Minnesota, location. Augsburg educates students to be informed citizens, thoughtful stewards, critical thinkers, and responsible leaders. An Augsburg education is defined by excellence in the liberal arts and professional studies, guided by the faith and values of the Lutheran church, and shaped by its urban and global settings. Learn more at Augsburg.edu.