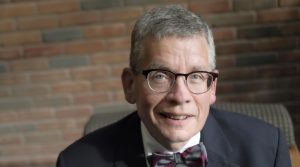 In its March 12 meeting, the executive committee of the Augsburg Board of Regents unanimously approved a six-year contract renewal for President Paul C. Pribbenow. 
"In an era when five- or six-year presidencies are common in higher education, President Pribbenow's long-term leadership of the university has enabled Augsburg to achieve remarkable things," said Matt Entenza, chair of the Augsburg Board of Regents. "The university has become one of the most diverse private institutions in the Midwest during his tenure and has welcomed record-breaking first-year classes in the past two years. The university is fortunate to continue to have Paul's transformational leadership through 2027."
Pribbenow joined Augsburg in 2006 as its 10th president. During Pribbenow's most recent six-year term, Augsburg changed its name to Augsburg University, recognizing its expansive academic mission serving undergraduate and graduate students on campus and at locations around the world. Pribbenow also led the institution's largest-ever capital campaign during that time, raising more than $55 million to construct the university's largest academic facility, the Norman and Evangeline Hagfors Center for Science, Business, and Religion, which opened in January 2018. As a reflection of Pribbenow's institutional leadership, the Augsburg Board of Regents was awarded the 2017 John W. Nason Award for Board Leadership for its work to initiate an inclusive, five-year strategic planning effort and for leading the institution's successful capital campaign for the Hagfors Center. 
Pribbenow is recognized as one of the country's most engaging teachers on ethics, philanthropy, and American public life. Learn more about his work and presidency.
About Augsburg
Augsburg University offers more than 50 undergraduate majors and 11 graduate degrees to 3,400 students of diverse backgrounds at its campus in the vibrant center of the Twin Cities and nearby Rochester, Minnesota, location. Augsburg educates students to be informed citizens, thoughtful stewards, critical thinkers, and responsible leaders. An Augsburg education is defined by excellence in the liberal arts and professional studies, guided by the faith and values of the Lutheran church, and shaped by its urban and global settings. Learn more at Augsburg.edu.