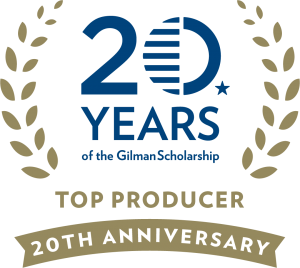 Augsburg University was recognized today by the U.S. Department of State's Bureau of Educational and Cultural Affairs for having produced the most Gilman recipients over the past 20 years in the "small institutions" category. Sixty Augsburg students have used Gilman awards toward a study abroad experience since 2001; this number does not include scholarship winners who did not end up studying abroad for different reasons, including the COVID-19 pandemic. 
"Gilman Scholarships are a priority for Augsburg University because they help us fulfill our mission to be 'small to our students, big for the world,'" said Andrea Dvorak, associate director of off-campus study at Augsburg's Center for Global Education and Experience. "Our work helping individual students prepare their essays is intimate and personal—we get to learn from our students' stories and gain a deeper understanding of their lives. The result is twofold: our staff expand our ability to work with more and more diverse students, and our students bring their lived experience into the wider world. We know this has a lasting impact on their own lives, their study abroad host communities, their academic field and future professions, and even their home communities here in Minneapolis."
Established in 2001, the U.S. Department of State's Benjamin A. Gilman International Scholarship Program has made study abroad more accessible and inclusive by providing scholarships to outstanding U.S. undergraduate students who, due to financial constraints, might not otherwise participate. Since the program's inception, more than 34,000 Gilman Scholars have studied or interned in more than 155 countries. 
To learn more about Gilman Scholarships, visit gilmanscholarship.org. The Gilman competition is administered at Augsburg through the Center for Global Education & Experience.
About Augsburg
Augsburg University offers more than 50 undergraduate majors and 11 graduate degrees to 3,400 students of diverse backgrounds at its campus in the vibrant center of the Twin Cities and nearby Rochester, Minnesota, location. Augsburg educates students to be informed citizens, thoughtful stewards, critical thinkers, and responsible leaders. An Augsburg education is defined by excellence in the liberal arts and professional studies, guided by the faith and values of the Lutheran church, and shaped by its urban and global settings. Learn more at Augsburg.edu.