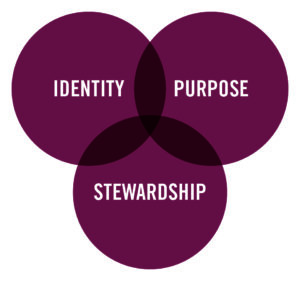 E.B. White wrote that the role of the artist is to "see things whole." These three words underlie a leadership philosophy that cultivates whole leaders and thriving organizations to positively impact the common good. Following a generous gift in 2022, Augsburg University has established an institutional home to support and extend this practice: the Reell Office of Seeing Things Whole. 
First developed in the early 1990s, Seeing Things Whole is a three-fold model that helps individuals and organizations think about their lives as a set of relationships among three key dimensions—identity, purpose, and stewardship. The Reell Office of Seeing Things Whole connects Augsburg's mission of educating students as responsible stewards and thoughtful leaders to the way organizations engage in meaningful, purpose-driven work in the world. 
"The three dimensions of Seeing Things Whole align well with Augsburg's commitment to educate for lives of service," said Tom Morgan, professor of leadership studies, who introduced Seeing Things Whole to Augsburg in 2016, integrating it into the Master of Arts and Leadership and Master of Business Administration programs. 
"No matter what the chosen discipline or professional aspiration, learning is best grounded in clarity regarding one's values (their Identity), thoughtful consideration of who it is they desire to serve (their Purpose), and an abiding sense of how one's resources are acquired and are being cared for (their Stewardship)."
Seeing Things Whole offers a disciplined process to support leaders who seek greater connection between their organizational values and the challenge of navigating today's accelerating changes in the workplace. 
"I feel energized to support leaders' ability to think critically about the unique times in which we find ourselves while remaining deeply rooted to the values that support them to thrive," said Keri Clifton, program director. 
The Reell Office of Seeing Things Whole encourages individuals and organizations to participate in Whole Leader Roundtables, where attendees work collaboratively to understand all dimensions of a given problem, explore tensions, and work toward achieving an effective resolution for all stakeholders and across multiple bottom lines. Monthly roundtables are free and open to the public. Register now to attend the next roundtable on March 8. 
Teams and organizations can apply the three-fold model to a wide variety of challenges, including strategic planning, strategic decision-making, succession planning, governance, and developing organizational mission, vision, and values. At the individual level, Seeing Things Whole offers a pathway to creating stronger connections between one's values, sense of purpose, and leadership action. Individuals can begin exploring Seeing Things Whole as a tool for growth by completing the Whole Leader Profile at no cost. 
To learn more, sign up for a roundtable, or start a conversation about how the three-fold model can positively impact your work or organization, contact the Reell Office of Seeing Things Whole.