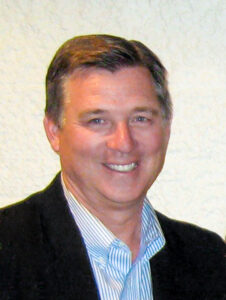 George Dierberger, associate professor of business administration and director of Augsburg University's MBA program, has been appointed to serve as the inaugural Thomas '72 and Karen Howe endowed professor for entrepreneurship. 
"The intersection of Tom and Karen Howe's personal experiences as entrepreneurs and George Dierberger's professional commitment to educate students for entrepreneurial leadership make this new professorship a remarkable opportunity to celebrate the power of philanthropy to transform lives," said Augsburg President Paul C. Pribbenow. "As the inaugural Howe Endowed Professor of Entrepreneurship, George is dedicated to integrating innovation across the university, ensuring that students in business, science, the arts, the humanities, and beyond, are equipped to be entrepreneurial leaders in their careers and communities." 
Dierberger spent 25 years in a variety of leadership positions at 3M, where he led multi-million dollar sales initiatives, started five new businesses, and implemented product launches ranging from high-tech laser pointers to government-regulated products. His teaching areas of expertise include innovation, entrepreneurship, leadership, organizational development, change management, international business and strategic management. He continues to consult for entrepreneurial organizations and oversees MBA field projects that include writing strategic plans for Fortune 500 companies, Mayo Clinic, entrepreneurs, and nonprofits. Dierberger was named a Fulbright Scholar in 2022, spending three months in residence at the Atlantic Technological University in Letterkenny, Ireland.
"Professor Dierberger's impressive accomplishments and long-standing commitment to continuous innovation in our business program make him a natural fit for the Howe professorship," said Paula O'Loughlin, provost and senior vice president for academic and student affairs. "His expertise and innovative spirit will take Augsburg's investment in entrepreneurship to the next level across our curriculum." 
The Thomas '72 and Karen Howe Endowed Professor for Entrepreneurship was established in 2022 to strengthen Augsburg's business department and inspire innovation and leadership.
"Tom and Karen's visionary gift and George's entrepreneurial leadership will make a difference in the lives of countless students and those they serve for generations to come," said Pribbenow.