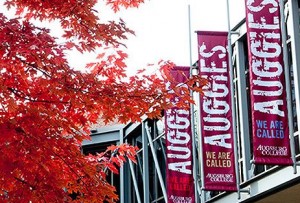 A recent South Washington County Bulletin article featured incoming Augsburg College student Mark Lukitsch's accomplishments and high school experience. The story describes Lukitsch as one of Park High School's most well-known students. He has congenital muscular dystrophy, which the article said "limits his fine-motor skills but not his ambition."
Lukitsch was influential in creating positive changes to a local stadium's wheelchair-accessible seating options, and he chose to continue his education at Augsburg College, in part, because of the urban campus features tunnels, above-ground links, and a wheelchair-friendly layout that make it more accessible. He plans to pursue a communication studies degree and will continue to study alongside Avery, his service dog who can open classroom doors and perform other tasks that allow him to live more independently.
Read "Park High School graduate profile: Mark Lukitsch ready to move forward" on the Bulletin website.