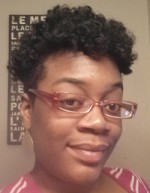 The Vincent L. Hawkinson Foundation for Peace & Justice has awarded Augsburg student Atlese Robinson '15 the 2014 Hawkinson Foundation Scholarship. This scholarship was created by the Foundation to encourage students who have already demonstrated a commitment to peace and justice to strive for those values in their educational pursuits and in their personal and professional lives.
Robinson is majoring in theater at Augsburg. Her artistic background includes the Penumbra Theatre's Summer Institute and the St. Paul Central High School's Central Touring Theatre. When she was attending Central, Robinson wrote a poem highlighting racial inequalities within the school system. She then went on to perform the poem, with others, for groups of teachers and administration in the St. Paul Public Schools.
Robinson has served as editor of The Echo newspaper, a student publication at Augsburg College. She also has performed her original spoken word as part of the College's Dr. Martin Luther King, Jr. Convocation celebration.