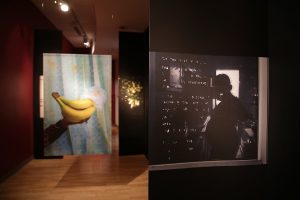 MPLSART.com recently interviewed Khadija Charif and Yasmin Yassin, two Soomaal House of Art fellows whose solo exhibitions are on display through December 14 in the Augsburg Galleries. 
Photographer Yasmin Yassin's show, "Should Be Good Times," explores her journey towards motherhood during quarantine, taking viewers physically through a womb-like space with photographs hung from the ceiling. 
"I thought, 'What if you have to go in and experience the exhibit by using your body and moving through it?'" she told MPLSART.com. "You start at the beginning of this hallway-like gallery space and go all the way down, but you have to move through the pieces as well, and it gets narrower as you go. I wanted to provide that darkness and enclosure, to try and recreate the feeling of spending all that time in my apartment."
Artist and Poet Khadija Charif's show, "Strangers of My Sight—In Truth and In Trial" explores "the kindness, love, and short companionship that strangers provide." The exhibit includes a private space with two chairs and a set of cards which present compelling quotes and questions for visitors to explore. 
"What I hope is that this space allows others to explore conversations with a stranger," said Charif. "Grab someone you'd like to know, invite them to the table and ask questions. Not the light questions that bore us but the questions that excite us and allow us to deconstruct the barriers we naturally set when we meet strangers."
The Soomaal Fellowship is a collaboration between Augsburg Galleries and Soomaal House of Art, a Somali artist collective in the Seward neighborhood, that aims to harness the power of art as a tool for intellectual and civic engagement by advocating and advancing the creative development of Somali visual artists. The partnership will continue with new fellows showcasing their work on Augsburg's campus every 18 months.
Read more on MPLSART.com: Connection/Isolation: Soomaal Fellowship showcases pandemic work of two emerging artists