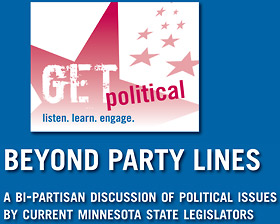 Augsburg College will host a bipartisan discussion, "Beyond Party Lines," featuring Minnesota State Reps. Steve Simon (DFL) and Pat Garofalo (R) from 7:30-9 p.m. on Wednesday, Oct. 29 in the Sateren Auditorium on campus. The discussion will revolve around current local political issues such as transportation and the gas tax. The event is free of charge and open to the public.
Involvement from the audience will be encouraged.
Beyond Party Lines is sponsored by The Sabo Center for Citizenship and Learning and the following student organizations: College Republicans, College Democrats, Obama Student Organization, Coalition for Student Activism (CSA), and Minnesota Public Interest Research Group (MPIRG).
Contact Gary Hesser, Sabo Professor of Citizenship and Learning, at hesser@augsburg.edu for more information.