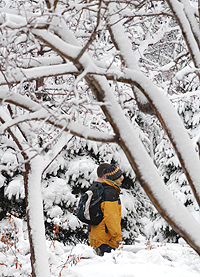 One of the top news stories this week is the rising number of flu cases. While the current strain of the flu virus is less virulent than the H1N1 virus of several years ago, it's important to remember that any flu can easily spread from person to person.
The health and safety of the Augsburg Community is a top priority, so College staff are monitoring federal and state health resources and communicating with students, faculty and staff about flu season.
"Each member of our community—students, faculty, and staff—has a role to play in limiting the impact of flu on campus," said Ann Garvey, vice president of Student Affairs.
"We are seeing stories about hospitals limiting visitors to restrict the spread of flu, and with students returning to campus and classes starting up again for all our programs, now is the time to remind Auggies how to stay healthy."