Class of 2020 is 45 percent persons of color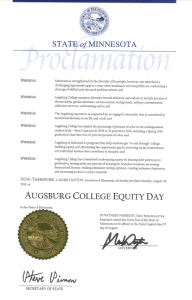 (MINNEAPOLIS) — Augsburg College at 10:15 a.m., today, welcomes it's most diverse, first-year undergraduate class — with more than 45 percent persons of color. At the same time, the College is announcing its initial equity framework to remove the social, institutional and individual barriers that contribute to inequity.
This important work garnered support from the St. Paul Foundation — a grant of $10,000 and the opportunity for additional funding as the framework takes shape.
"Working to foster diversity and inclusivity has been a cornerstone of the Augsburg promise for many years and is an important extension of our commitment to social justice and equity," said Augsburg College President Paul Pribbenow.
"We are honored to have the support of the St. Paul Foundation which places high importance on racial equity work. We know, as a democracy college, that Minnesota is strengthened by the diversity of its people and that educating persons of diverse backgrounds who learn at the intersection of differences is what best prepares young people to become engaged citizens and educated problem solvers."
Since 2006, Augsburg has more than tripled the percentage of persons of color in the full undergraduate student body, growing from 11 percent in 2006 to 33 percent in 2016.
Through this work, the College has earned a leading reputation for demonstrating a unique way of engaging in the work of higher education. Within the Minnesota Private College Council, the overall enrollment average among schools includes 27 percent first-generation students and 20 percent Pell-eligible students. Augsburg leads the state among private, four-year institutions with nearly 50 percent of students who are first-generation and more than 40 percent of students who are Pell-eligible.
Continue reading "Augsburg welcomes most diverse class in its history" →