Star of Star Trek, Reading Rainbow and Roots explores innovation, creativity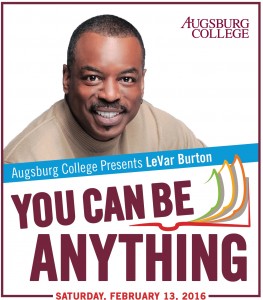 (MINNEAPOLIS) — LeVar Burton – an educator, director, and actor best known for his roles in Reading Rainbow, Roots and Star Trek – will share with the public and the Augsburg community the importance of turning STEM into STE(A)M when he speaks at the College on February 13, 2016, as part of Scholarship Weekend.
Burton will talk about compelling reasons for integrating science, technology, engineering and math with the arts and design in his presentation "You can be anything: The importance of education, innovation, and creativity."
Every spring, Augsburg College welcomes the best and brightest prospective Auggies to participate in Scholarship Weekend. These students participate in a range of activities, connect with faculty and current students, compete for top scholarships, and hear from inspiring leaders. Levar Burton's appearance follows on successful visits in previous years of his holiness the Dalai Lama and Bill Nye the "Science Guy."
TICKET INFORMATION
All tickets are general admission with seating available on a first-come, first-served basis.
Price: $28.00*

*All tickets will be charged a $3 service fee. All sales are final. No refunds or exchanges are allowed.

Purchase tickets at

www.augsburg.edu/tickets
WHERE
Augsburg College's Kennedy Center, located in Si Melby Gymnasium (715 23rd Ave. S., Minneapolis, MN 55454)
WHEN
Doors open at 11:45 a.m., Feb. 13

Presentation from 1-2 p.m., Feb. 13
ABOUT AUGSBURG COLLEGE
Augsburg College is set in a vibrant neighborhood at the heart of the Twin Cities, and offers more than 50 undergraduate majors and nine graduate degrees to nearly 3,600 students of diverse backgrounds. Augsburg College educates students to be informed citizens, thoughtful stewards, critical thinkers, and responsible leaders. The Augsburg experience is supported by an engaged community committed to intentional diversity in its life and work. An Augsburg education is defined by excellence in the liberal arts and professional studies, guided by the faith and values of the Lutheran church, and shaped by its urban and global settings.