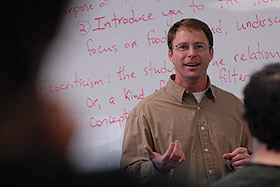 For several months, associate English professor Colin Irvine has listened to Norwegian language recordings during his daily commute between Northfield and Augsburg College as he hoped for good news.
It turned out to be a good decision.
That's because Irvine was recently awarded a Fulbright Scholarship award and will spend the 2010-2011 academic year in Norway as a Roving Scholar in American Studies.
In the role, Irvine will prepare presentations on American studies topics and travel to schools across Norway to provide opportunities for Norwegian teenagers to learn about the United States. The schools will request the presentation that Irvine will give. Irvine, who will be based in Oslo with his wife and two children, will likely give between 250 and 300 presentations. Continue reading "Irvine receives Fulbright to rove in Norway" →