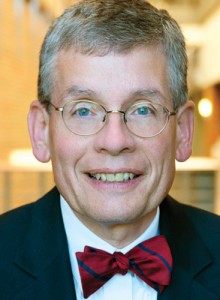 WASHINGTON, D.C. — Augsburg College President Paul Pribbenow participated in a high-level meeting with the U.S. Department of Education in Washington, D.C., last week focused on highlighting successful strategies for increasing equity in college access and graduation rates for students eligible for the Federal Pell Grant Program.
One recent strategy deployed by Augsburg, in partnership with Minneapolis Community and Technical College and with Saint Paul College, is the Auggie Plan. The thoughtfully and carefully constructed Auggie Plan, which is customized to the student profile of each partner institution, creates a clear, attainable, predictable, and efficient path from an associate's degree to a liberal arts degree. The Auggie Plan is slated to be in five community and technical colleges by 2017.
"As a college located in one of the most diverse ZIP codes in the region and with a traditional undergraduate population comprised of 40 percent Pell-eligible students, Augsburg is deeply familiar with the work that a commitment to inclusion entails," Pribbenow said. "We also know how rewarding it is when we get it right — which, admittedly, is not every time and not as often as we'd like. But the fact that there is still work to be done in no way deters our commitment.
"At Augsburg, we do this work because it is both right and necessary. It's right and necessary for students — enriching our learning community with questions and ideas from a vast array of bright minds. It is right and necessary for businesses and nonprofits — marshaling the talents and perspectives of all our people to address our region's most pressing needs and opportunities. It is right and necessary for Minnesota as a state that offers a lifestyle we cherish and wish to sustain. "
U.S. President Barack Obama, since the beginning of his administration, has worked to ensure more U.S. residents have the opportunity to earn a quality, affordable higher education.
"For us to thrive as a diverse democracy and for individuals to achieve their dreams of success, higher education must fulfill its promise of providing opportunity to all students, regardless of their race, gender, or income level," said U.S. Under Secretary of Education Ted Mitchell.
"That opportunity means access, but getting into college is not enough. It's getting in and getting through that matters. There are remarkable institutions around the country succeeding at making access and success a reality for low income students. We need to learn from their leadership and spread the word about practices that work.