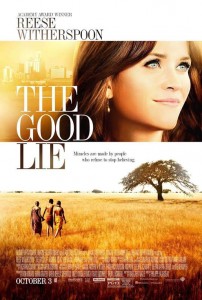 Augsburg College alumna Kuoth Wiel '13, a star in the feature film "The Good Lie," has garnered a plethora of media coverage. The film, which was released in Minnesota Oct. 17, has been well received and is generating Oscar buzz.  Augsburg has received several media mentions thanks to Wiel since she was a student at the College when she auditioned for the role.
The film brings to life a fictional yet strikingly accurate story of the 'Lost Boys' of Sudan. Born in a refugee camp in Ethiopia to Sudanese parents herself, it's no surprise Wiel found it important to help tell this story. Being a part of the film "…validated all the struggles we had went through," Wiel said in an MPR news interview.
Wiel has been traveling around the U.S. promoting the film since its September debut at the Toronto Film Festival. The film, along with Wiel and her cast mates, have been featured and covered by media outlets ranging from Minneapolis' Star Tribune to Rolling Stone magazine.
Below is a list of some of the local and national media coverage on Wiel: