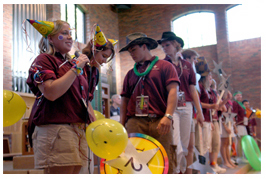 Auggie Days is a week-long program, Sept. 1-9, for all first-year students attending Augsburg College. The program is designed not only to provide students with the tools and information needed to successfully transition into college life, but also to get to know Augsburg, the city, the neighborhood and fellow classmates.
Throughout the week, students will learn and talk about issues relevant to college life, such as academic preparation, diversity and social responsibility, getting involved on campus, and making healthy lifestyle choices. Plus, students will have numerous opportunities to meet other first-year students and engage in campus entertainment events.
While students are unpacking, there will be three Parent and Family Orientation sessions available for parents to attend on Saturday, Sept. 3. Parents are also invited to attend the "Welcome to Augsburg BBQ" on Saturday, from 4-6 p.m.
For a list of all activities and times go to:
http://www.augsburg.edu/campusactivities/auggiedays
Contact the Department of Campus Activities and Orientation at 612-330-1100.
Auggie Days Parking
All Augsburg Parking lots will be available for you to park your car in. There will be no ticketing on move-in day or during the Auggie Days program. Ticketing will begin on Wednesday, September 5, the first day of classes. Note that some street parking on campus is actually city street parking. The city of Minneapolis is always enforcing all green and white signs, so please abide by them at all times.