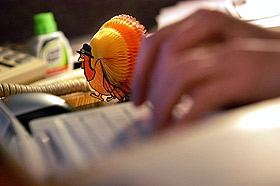 This year marks the fifth annual Turkeypalooza at Augsburg, where Campus Kitchens teams together with students, faculty, staff, and community members to collect ingredients, deliver, and serve over 600 meals to members of our community. This includes children, families, the elderly, recent immigrants, andhomeless persons.
Turkeypalooza requires huge participation on behalf of the Augsburg  community because standard Campus Kitchens meals operate off of rescued donations. During Turkeypalooza, making traditional Thanksgiving meals means soliciting all of the ingredients to make turkeys, pumpkin pies, mashed potatoes, green bean casserole, Jell-O salad, and stuffing.
A featured event during Turkeypalooza is "Take Your Turkey to Work Day" on Friday, Nov. 9. Faculty and staff are invited to take a turkey to work and donate it to Campus Kitchens. A table will be set up in Christensen all morning to
receive the turkeys. Over the next 2 weeks, departments on campus are also invited to participate in sponsoring a food item. Items needed include gravy mix, onions, canned pumpkin, potatoes/instant potatoes, graham crackers, pie crust mix, cream of mushroom soup, green beans, French fried onions, butter and evaporated milk.
If you are interested in participating, or would like more information, please e-mail Brian Noy at noy@augsburg.edu.