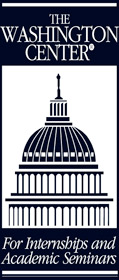 Because of Augsburg's commitment to service learning, the Washington Center for Internships and Academic Seminars unanimously selected the college as its partner for a 2-week seminar that will run 1 week prior to and during the Republican National Convention, being held in the Twin Cities, Sept. 1 – 4, 2008. Augsburg will host 250 students from across the country who will interact with local and national politicians, journalists and others during the convention.
Twenty Augsburg students will be among those selected to participate in workshops, issue forums and, potentially, convention sessions, in addition to fieldwork assignments. Participants will be required to apply with their school's approval and pay a fee, which Augsburg has agreed to subsidize.
The Washington Center is a nonpartisan, nonprofit educational organization that provides more academic internships than any other group in the U.S. It chose Augsburg for this honor because of the college's commitment to experiential learning and preparing students as leaders and global citizens.
"Augsburg is thrilled to be selected by The Washington Center," said President Pribbenow. "This is an unbelievable honor and a once-in-a-lifetime opportunity for our students and others across the country."
A news conference related to the Washington Center's selection of Augsburg will be held on Wednesday, Dec. 12, at 11 a.m. in the Oren Gateway Center lobby and Johnson Conference Room. Speakers will include President Pribbenow; Eugene Alpert, senior vice president of The Washington Center; and city officials from Minneapolis and St. Paul.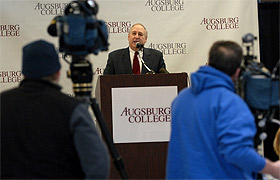 At a news conference on Dec. 12, Eugene Alpert, senior vice president of The Washington Center (pictured), said that the 250 student interns who come to the Twin Cities will "play their small part in the larger role of electing the next president of the United States." The first week they will be in seminars at Augsburg, and then receive fieldwork assignments. Each day the students will begin with speakers who will brief them about what to expect that day on the convention floor.
Alpert explained that the internship will be part of an academic course for which students will keep journals, write essays, conducts interviews, and for which they will receive academic credit.
On Dec. 9, Dean Barbara Farley was interviewed on KSTP-TV's At Issue show, with host Tom Hauser. She said that the experiential education student interns would receive at the convention would give them the "sense of a significant national event" with a focus on national leadership.
On Dec. 12, Pribbenow was a guest on the KSTP-TV morning show, and Farley was interviewed on WCCO radio.
LINKS TO COVERAGE:
"Students to get look at politics in action" (Star Tribune, Dec. 12)
"Augsburg Introduces New RNC Course" (KMSP-TV, Dec. 12)
"Augsburg College to host internship program during RNC" (Minnesota Public Radio, Dec. 12)