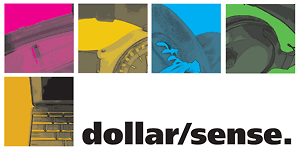 Credit-card debt is a problem that faces many college students. BusinessWeek reported last year that 75% of college students have cards, up from 67% in 1998. Nellie Mae, a student-loan corporation, found that the average outstanding balance on undergraduate credit cards was $2,169 in 2004.
To help students confront this issue, a 2-week program, entitled "dollar/sense," will be held on campus starting Monday, Feb. 18. Its goal is to inform college students of the intricate and complicated financial world around them. The event will run intermittently from Feb.18 – 28 (see schedule below), and each session will begin at 6:30 p.m. in the Christensen Center coffee lounge. 
At each session, a different guest presenter will lead a conversation about certain financial topics, such as credit scores, budgets, student loans, charitable giving, or financial aid issues. The format of this event will be an open conversation where students can ask questions so they can learn more about the important financial issues that they face as college students.
Free gifts and prizes will also be given away at every event.  This year, there will be a free iPod given away each night.
dollar/sense Schedule
Feb. 18 – BUILD your credit
Sponsored by TRiO
Feb. 19 – EMBARK on your financial journey
Sponsored by Athletics
Feb. 20 – RENEW your financial aid
Sponsored by Financial Aid
Feb. 21 – PLAN for the future
Sponsored by Residence Life
Feb. 25 – EMBARK on your financial journey
Sponsored by TRiO
Feb. 26 – SHARE with President Pribbenow
Sponsored by Office of the President and Alumni Relations
Feb. 27 – PLAN for the future
Sponsored by Human Resources
Feb. 28 – BUILD your credit
Sponsored by CCHP
For more information on this event contact: Cody Warren at warrenC@augsburg.edu