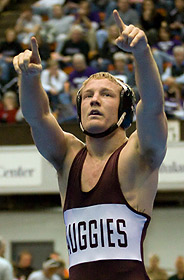 Wrestling — Claiming a top-four finish in the team standings for the 20th straight year — a record currently unmatched by any other NCAA wrestling program in any division — the Augsburg wrestling team finished third at the NCAA Division III National Championships. Augsburg claimed five All-Americans, marking the 20th straight season that Augsburg has had five or more All-Americans and 22nd time it has accomplished the feat in its 26 seasons of NCAA competition.
The Auggies completed their first season under new head coach Sam Barber, who had served as an assistant under former head coach Jeff Swenson for the previous six seasons. Augsburg finished 10-2 in dual meets, placed third at the NWCA Division III National Duals, and won the NCAA Division III Great Lakes Regional for the 6th straight year.
Men's basketball — Under 3rd-year head coach Aaron Griess, Augsburg finished 12-13 overall. After starting the season 0-6, Augsburg finish the season with its second-straight double-digit win campaign and best record since the 2000-01 season.
Women's basketball — Under 4th-year head coach Jennifer Britz, Augsburg finished 7-18 overall, and reached the seven-win mark for the second time in the last three seasons.
Men's hockey — Under head coach Chris Brown, Augsburg finished 6-17-2 overall in the season. Dan Carlson, Jim Jensen, Chris Johnson, and Dan Leopold all received All-MIAC honorable mention.
Women's hockey — Under head coach Jill Pohtilla, Augsburg finished 4-16-3 overall. Playing in all but 20 minutes of the season in goal, Toni Menth had the third-most saves of any Division III women's hockey goalie in the country.
Men's/Women's indoor track and field — The Augsburg men's and women's track and field teams each finished 11th at the MIAC indoor championships, completing the first half of the track and field season under head coach Dennis Barker. The Auggie women were led by Whitney Holman, who earned an all-conference honor with a second-place finish in the 55-meter dash, and earned honorable-mention all-conference honors with a fifth-place finish in the 200-meter dash. On the men's side, Nick Ward earned All-MIAC honorable-mention honors at the conference meet with a sixth-place finish in the men's 55-meter dash.
Women's swimming — Under new head coach Tricia Wallace, the Augsburg women's swimming team completed its 5th year of varsity competition, finishing 11th at the MIAC championships. The Auggies were the lone MIAC program to complete its season with every swimmer recording season-bests in every event at the MIAC championships.