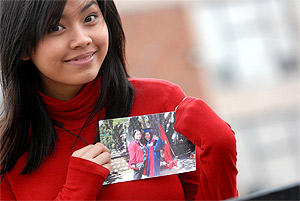 It's been six years since Augsburg senior Chau Nguyen last saw her mother. Six years since she last set foot in her native Vietnam. Six years since Chau arrived in the United States and worked her way — with Mom's help — from an exchange student to graduating from Augsburg College on May 3 with a degree in International Business and Math.
Chau Nguyen grew up in Dalat City, Vietnam with her mother, stepfather, grandmother, sister, and brother. Her travels through the streets of Dalat gave Chau a constant reminder of the poverty in the city, especially among its many homeless children. As a girl, she remembers being scolded by her mother for stuffing her backpack full of rice and giving it away to less-fortunate children.
At the age of 14, Chau won a national contest in English, math, and literature. This gave her the opportunity to be the youngest person ever to participate in a foreign exchange program from Vietnam to the United States. Once the program ended, she knew she wanted to stay in the United States to complete her education.
Chau needed a host family that would be willing to send her to private school so that she could obtain a new visa. Over the period of the next three months, her mother worked the phones in Vietnam to call everyone they knew. Chau bounced around the United States, from Virginia to Indianapolis to Chicago, living out of a suitcase. She struggled to find hope in those days. "I would wake up in the morning and get dressed, and then at night I would wash the clothes, fold them up, and put them right back in the suitcase. It was a hard time."
Finally, the Loadmand-Copeland family in Denver took her in. With their help, Chau was able to complete her first year of college.
Although Chau had scholarship offers from other schools, it was her experience with the admissions staff at Augsburg that made her decide to come to the Twin Cities. Marissa Machado, coordinator of international admissions, made Chau feel welcome on campus. "Marissa promised me that I could finish my major in four years and that I would be able to work and pay my way through school," Chau remembered. "Every promise that Augsburg has given me since I entered has been fulfilled."
During her junior year at Augsburg, a sudden trip to the hospital left her unable to work. Rather than give up, Chau went to see Jim Trelstad-Porter, Augsburg's international student advisor. She explained her situation, and Jim helped her find other scholarships to close the gap for that year. That flexibility allowed Chau to complete her undergraduate program.
Recently, at Augsburg's scholarship brunch, Chau spoke about how scholarships helped her through the last six years. She also explained why she hasn't been able to visit home — Vietnam will not grant Chau an exit visa if she goes there. Plus, her mother is still in debt from the plane ticket that sent Chau to the United States. One generous donor was so moved by her story that he offered to purchase a ticket for Chau's mother to fly to Minneapolis for commencement.
Now, after six years of challenges and uncertainty, Chau will be able to see her mother and celebrate their achievements together. Next summer, Chau will visit Vietnam and be reunited with the rest of her family. She then plans to pursue her MBA, with the ultimate goal of opening schools to educate homeless and abused children in Vietnam.