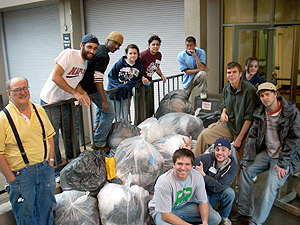 You've done it — thrown your perfectly recyclable plastic water bottle into the garbage can. Perhaps there wasn't a recycling bin nearby, or you just didn't care. Whatever the case, chances are you've been one of many Americans, and Auggies, to throw your recyclables into the trash.
Recently, a group of Augsburg students and facilities supervisor Tom Ruffaner got down and dirty and dug through two-days' worth of our garbage. Their purpose? To get to the bottom of Augsburg's well-intentioned recycling program.
Senior Donnie McCarthy was frustrated by the Augsburg community's lackadaisical attitude toward recycling. In the wake of this spring's successful Focus the Nation teach-in, McCarthy asked Tim Dougherty of the Center for Service, Work, and Learning for advice on how to show students what was happening.
With the help of Dougherty and Ruffaner, McCarthy and junior Jake Quarstad gathered students to conduct a trash audit. The group collected garbage from Christensen Center, Sverdrup Hall, Mortenson Hall, and the Science building. They opened the bags and separated the contents into four categories — cans and bottles, compostable materials, paper, and trash. Each portion was weighed to determine the percent of the total.
The results showed that 68.8% of the garbage is either compostable or recyclable. According to McCarthy's calculations, out of an estimated 113,303 pounds of garbage per year, 77,953 pounds could be recycled or composted. McCarthy said, "I was hoping the results wouldn't be so dire."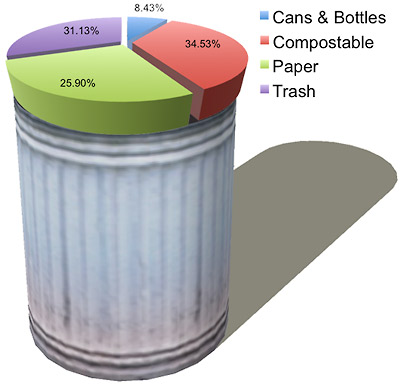 Actually, Auggies do a respectable job, says Ruffaner. In a typical year, we collect 13.5 tons of cans and bottles, 66 tons of paper and cardboard, 280 cubic yards of yard waste for composting off campus, 4,483 fluorescent light bulbs, and numerous televisions, computer monitors, and other electronics. He also credits students in the residence halls for recycling about 400 cubic yards of cans and bottles between September 12, 2007 and April 30, 2008.
What can we do to improve our recycling efforts? Perhaps the simplest action we can take, says McCarthy, is to make use of the recycling bins available on campus. "Take the extra effort to separate your recyclables," he suggests. "I know I can't make people care," he added. "Maybe we just need to tell people."
The group plans to continue efforts to educate students, faculty, and staff about recycling. Information about reusing and recycling is available on the Environmental Stewardship Committee web site at www.augsburg.edu/green.