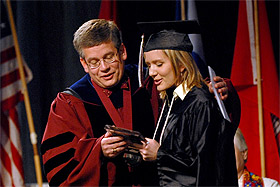 Beth Florence, a Spanish major from White Bear Lake, Minn., is the 2008 recipient of the Marina Christensen Justice Award. Each year, this honor is presented at Commencement to the graduating senior who best exemplifies Augsburg's motto, "Education for Service."
During her years at Augsburg, Florence distinguished herself as an active citizen with a passion for service. Her long-term commitment to responding to the needs of people around her embodies Augsburg's efforts to promote student involvement in urban communities.
After studying in Mexico during her junior year, Florence returned home with a determination to apply in her daily life what she had learned. She volunteered at La Conexión, first assisting with tax returns and offering translation support for Spanish-speaking, low-income families. With her Augsburg Lilly internship, she developed a role at La Conexión as a Referral Center intern, helping to update the resource manuals of services used by Latino immigrants. She also helped develop their Kitchen Connection program in which Latinos and non-Latinos cook and share a meal together.
Last summer, Florence interned with the Campus Kitchen at Augsburg, preparing and delivering meals, working with local food banks, and managing student workers, often engaging them in reflection about their work.
In their letter of nomination, Florence's professors wrote that what truly distinguishes her, however, is how she "deliberately and thoughtfully used the classroom as a space in which to examine inequity. Her eager participation in service- and immersion-learning opportunities suggests the depth of her effort to gain a more thorough understanding of the circumstances others find themselves in, as well as her commitment to those less fortunate."
In her classroom work, Florence completed a research project in Latin American history that traced the intellectual history of the emergence of liberation theology in Latin America. That project evolved into a thesis for departmental honors in Spanish.
For her keystone seminar, Florence organized an ELL tutoring project with Somali teenage girls and women, which continued well past the semester's end and through the summer. Florence continues to include the girls in activities with her family.
The recipient of the Marina Christensen Justice Award must have demonstrated a dedication to community involvement as characterized by the personal and professional life of Marina Christensen Justice, who courageously and effectively reached out to disadvantaged people and communities.