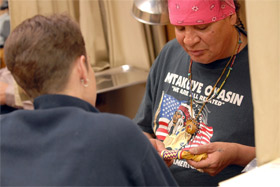 On a chilly spring morning, a man enters a room on the lower level of Central Lutheran Church in downtown Minneapolis. He leaves with a trial-size bottle of shampoo, a new pair of white tube socks, and access to a healing community.
This is the Augsburg Central Nursing Center, a place that provides instruction and practice for nurses as well as much-needed health care for members of the community. According to Dawn Bowker, a graduate nursing student at Augsburg, the center also provides growth for the nurses and their clients.
Since 1992, students in Augsburg's nursing program have worked at the Center. Many of the clients are people who have been marginalized in some way — they are uninsured, under-insured, and sometimes homeless. "They are pushed to the periphery," Dawn says.
Ruth Enestvedt, Augsburg nursing faculty member and co-coordinator of the Center, says their model of practice is framed by an understanding that people need healing rather than a diagnosis and a prescription for treatment. "We assume that people are experts in their own lives," she said. "We provide useful, relevant service that respects what the person brings to the situation."
One of the most important lessons Dawn learned through her work at the Center was to listen to clients' stories and not to pre-judge them. "Like with homelessness," she said, "we often assume the person has made poor choices. But people who develop a serious illness can lose everything because of the cost of their care or the symptoms of their illness," she added. "They are still valued individuals, they still have pride."
Linda Holt, the Center's other co-coordinator and Augsburg faculty member, adds that people's stories provide explanations for the choices they have made and insight into the best options for healing. "It is in listening to the stories that people have to tell that horizons are broadened and new, previously unimagined possibilities arise," Holt wrote.
Dawn sees advocacy as a significant role of the nurses, one that requires creativity and open-mindedness. She said, "For example, if I tell you that you have an appointment next Tuesday at the Southdale clinic, I assume you will have no problem getting there. With the Center's clients, I can't make that assumption. I cannot take for granted that they have access to transportation, healthcare coverage, or the ability to keep that appointment."
Listening and sharing helps nurses find solutions for their clients and creates the mutual respect that offers growth for both parties. Dawn says that she has learned about respect and embracing differences and has formed new friendships as a result of her work at the Center.
Oh, and the shampoo and tube socks? They were donated by the sunday school children at Central Lutheran. In addition to the donated space, these items from the church reinforce the message of caring to the Center's clients.