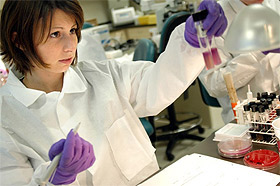 While the rest of us are enjoying a quiet afternoon on the lake or seeing the latest summer blockbuster, 16 Augsburg students will be in the lab or the library conducting research. Perhaps one of them will be blazing a trail to Augsburg's next Nobel prize.
URGO — the office of Undergraduate Research and Graduate Opportunity — provides summer research grants for students interested in graduate or professional study. The program encourages undergraduate students to conduct research by requiring an understanding of current questions in a field, the ability to collaborate with others, and the persistence necessary to meet the demands of graduate study.
Students are involved in research activities 40 hours per week for nine weeks. They also participate in weekly research roundtable discussions, submit weekly progress reports to the URGO office, and are required to present their findings at Augsburg's year-end Zyzzogeton festival.
Juniors Donnie McCarthy and Jamie Simmons will be playing with dragonfly larvae and poking around in their DNA. With biology professor Ralph Butkowski, the students will collect organisms, extract their DNA, isolate a particular gene, make copies of the gene using PCR, and then find the nucleotide sequence using a gene sequence analyzer machine. The goal of their research is to contribute to the international Barcode of Life Initiative (BOLI).
Stephanie Storlie, a senior majoring in psychology and youth and family ministry is conducting research at the University of Minnesota's Institute of Child Development with professor Nicki Crick. Storlie will study relational aggression — the behavior featured in popular media sources like Rosalind Wiseman's book "Queen Bees and Wannabes" and the film "Mean Girls." Specifically, Storlie be developing a coding system for media to compare sources with the scientific research in this area.
Storlie writes, "This area of research is fairly new, and it will be very exciting to see how the many popular media sources compare to this new research that has been conducted." She also noted that the Institute of Child Development will open a National Institute on Relation Aggression at the University's St. Paul campus.
Junior chemistry major Shelly Tippelt is working at Anoka-based SarTec searching for ways to make algae a more economical and efficient source for biodiesel. Tippelt wrote, "I want to learn more about the research process and U.S. fuel problems and solutions."
And Jason Potts will be helping athletes improve their 40-yard dash. The fifth-year HPE major is testing football players to see if decline (downhill) running has any effect on sprinting speed. Potts is hoping to learn if this type of running is better than running uphill or with resistance and if it might provide a better way to train in the offseason.
The 2008 researchers and their faculty mentors are:
Ashley Gruhlke — Su Doree
Daniel Volz — Sandra Olmsted
Donald McCarthy — Ralph Butkowski
Erick Turcios-Carerra — Brian Corner
Evelyn Tsen — Janet Fried
Jamie Simmons — Ralph Butkowski
Jason Potts — Anthony Clapp
Kellen Chamblee — Ronald Fedie
Matthew Harris — Brian Corner
Meghan Asleson — Yoji Shimizu (U of M)
Michelle Tippelt — Arlin Gyberg
Nathan White — robert tom
Nathaniel Johnson — Benjamin Stottrup
Robert Johnson — Arlin Gyberg
Sergio Romero-Garcia — Benjamin Stottrup
Stephanie Storlie — Nicki Crick