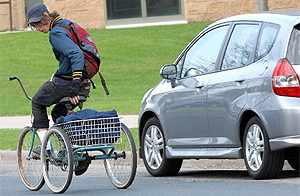 Despite having fewer students on campus during the spring and summer months, work for the Campus Kitchen Project continues. Nearly 2,000 meals are served monthly to help meet the hunger need in the surrounding community. There are several challenges and opportunities that the program faces during this time. Solutions to these challenges include using pedal power and utilizing donated regionally grown produce.
Pedal power
This spring, the program acquired a three-wheeled bike to be used as a delivery vehicle for some of its routes. A volunteer can carry about 40 meals per trip in the bike's basket. Currently two routes are being done via bike — one route to the Minnesota Indian Women's Resource Center and the other to homebound seniors. A third is being planned. As far as distance, routes vary from several blocks off campus to more than 10 miles round-trip — a great workout for volunteers that deliver the food.
Although it takes more muscle power to get the meals delivered, there are good reasons for using the bike ,says Campus Kitchen Coordinator, Brian Noy. "Besides going green, it also helps to promote healthy living and connects students to the community." Adding that it's easier to see and interact with the community when you're not driving around in a van. It also saves Campus Kitchen the cost of gasoline.
Presently, more bike delivery volunteers are needed, and the program is seeking a bike trailer that would allow the use of different bikes.
Locally grown
Spring and summer usually mean fewer meals that can be reclaimed from dining services. Locally grown produce can be used to offset this decrease. Most of the produce used by Campus Kitchen comes from community supported agriculture (CSA) shares that are delivered to campus. The Campus Kitchen is a drop site for two CSA groups, and there are currently 22 shares being delivered. Students, faculty and staff have purchased most of these shares from two Minnesota CSAs:
– Plowshare Farms (Alexandria, MN) – www.ploughsharefarm.com
– Big River Farms (Stillwater, MN) — sold out — www.mnfoodassociation.org
Campus Kitchen uses unused or donated portions of the shares so nothing goes to waste. To learn more about CSAs, go to www.landstewardshipproject.org. Most shares need to be purchased by the beginning of June.
A little help from your friends
Getting enough volunteers can also be a challenge for Campus Kitchen in the spring and summer. With fewer student volunteers, service learners and faculty on campus, Noy relies on the Campus Kitchen intern and other community volunteers. For more information about volunteering, contact Noy at 612-330-1624 or noy@augsburg.edu.
Volunteer schedule:
– Cooking, Mondays, 7-9 p.m. – at Augsburg College *
– Delivery, Tuesdays, 3:30-5:30 p.m. – at the Brian Coyle Community Center
– Cooking, Wednesdays, 7-9 p.m. – at Augsburg College *
– Delivery, Thursdays, 11 a.m. to 1 p.m. – at Peace House homeless shelter
– Delivery, Thursdays, 3-5:30 p.m. – to seniors who live independently
– Cook/Deliver, 1st, 3rd, 5th Sundays, 5:30 – 9:30 p.m. – to Secure Waiting homeless shelter *
* Greatest need
For more information, please visit www.augsburg.edu/campuskitchen.