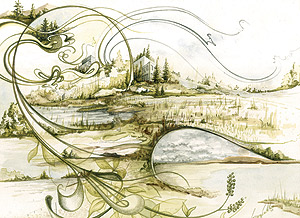 This past weekend, Augsburg College's art galleries have been refreshed with new exhibitions that are open to the campus community and general public. In the Gage Family Art Gallery is Gregory Euclide's "This is how I've been moving through it," and the Christensen Center Art Gallery hosts Doug McGoldrick's "Interior2." Both exhibitions will run from May 16 – July 11.
Gregory Euclide's mixed-media landscapes are as visually stunning as they are physically and intellectually complex. These painted, drawn, and often sculpted objects are not works on paper, as much as works of paper that gradually — sometimes quietly, sometimes explosively — unfold as you look at them. The artist wants people to move through his work, to explore, in his words, "the contradictions between the projections of idealized, picturesque views of landscape and our desire to have an authentic experience in nature."
Euclide, a 2008 MFA graduate from the Minneapolis College of Art and Design, has exhibited his work nationally in solo, group, and juried exhibitions and has received numerous awards, including a Minnesota State Arts Board Artist Initiative Grant. Since 2001, he has worked as an art instructor at Prior Lake High School in Prior Lake, MN.
Chicago-based photographer Doug McGoldrick expects his images to be beautiful, but troubling. On the image side he features things that you could stare at without really "seeing," and the text side consists of blurry words you do not comprehend. Within this desperation of looking without knowing is an exploration of the frustration McGoldrick has experienced his entire life — growing up with learning disabilities. The artist hopes that the viewer will "bounce back and forth between text and image trying to make a connection, which may or may not be there."
McGoldrick holds a MFA from the University of Wisconsin-Madison and currently teaches at Columbia College in Chicago. He has had solo and two-person shows throughout the Midwest and has been included group shows nationally and internationally. Some of his recent projects include a book about the work, people, and performances of Chicago's stage life, a look at reconciliation efforts in Rwanda, and an interfaith project that explores the lives of individuals devoted to following religious practice.
For more information, please visit www.augsburg.edu/galleries.
Also, please visit http://minnesota.publicradio.org/display/web/2008/05/14/euclide/ for an article about his exhibit at Augsburg.