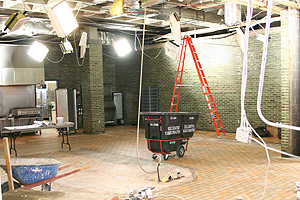 If you travel up to the Commons in Christensen Center these days, it's
hard to miss the sheets of plastic, rumblings of drills, and workers
in hard hats.
All of the construction is part of the changes that Augsburg's new
dining services provider, A'viands, is working on this summer. Part of that work is a redesign of the main service area. The updates incorporate feedback received from the Augsburg community in the request-for-proposals process.
Most of the area will have a completely new look. The wall that
separated the service area and the seating area will be removed to
allow for better traffic flow and new cooking exhibition stations.
The space will get new tile and counter tops to help freshen up the
space. There also will be a new salad bar and condiment station.
A'viands will be working most of the summer to ensure that they are
ready by the start of the fall day college term in August.
Other changes to food services include:
More hours and convenient times
• Continuous hours from breakfast through dinner in The Commons
• Extended hours in Nabo
• Extended hours for Weekend College weekends for Coopers and Nabo
Meal plan flexibility
• Flex dollars available on more meal plans
• A commuter meal plan option also for weekend and grad students
• A points plan for faculty, staff, and students not required to
purchase a board plan
Fresh and exciting foods!
• Healthy choices
• Organic, vegetarian, and vegan options
Student involvement
• Student advisory committee
• Student employment opportunities including possible internships