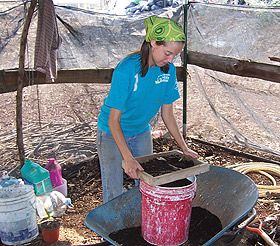 Students who study abroad often return home and tell of profound, life-changing lessons. Through their programs, students come into contact with a wide range of people and circumstances, and many of these encounters lead students to explore careers or ways of life they had previously not considered. Augsburg's Center for Global Education sums up this experience with a promise: "See the world through another's eyes, and your world will never be the same."
Internships help to enhance the study abroad program, deepening student understanding of the issues they study in the classroom and giving them personal and practical experience with people and cultures. CGE sites in Cuernavaca, Mexico and Namibia have offered internship programs for a number of years. This year, both sites will expand their offerings in response to growing interest from students and internship sites. Mexico will offer year-round internships and Namibia will begin a summer internship program.
The Cuernavaca site offers several options for internships in diverse fields, and students can complete full-time internships during January-term, in a semester, over a full year, or in the summer. Part-time internships are available for students in the semester or summer programs. These placements can be combined with Spanish language study, including courses to complement the intern experiences for students in healthcare, ministry, or business.
In Namibia, a new summer program titled "Social Change and Development in Southern Africa" will provide students with an opportunity to learn about contemporary and historical issues impacting development and social change in Southern Africa. In addition to their coursework, students will be paired with a local organization dealing with education, community development, health, or social change. Participants are also engaged in experiential learning and community engagement through home stays with local families and travel seminars that take place during the program.
Internships have been a highlight for many students because they provide opportunities for hands-on learning, personal and professional development, and rich exposure to local cultures and communities. An Augsburg College student who interned in Namibia with Hope Initiative said, "I enjoyed every minute of my time at Hope Initiatives. The staff has been so flexible and willing to help me in any way. The amount of knowledge and confidence I have gained here is endless. I now feel that I am a more well-rounded teacher and have had my mind opened to all new experiences."
An ongoing goal is to make sure that internships are reciprocal for the host organizations. Aunty Clara from Vision Life in Namibia, a small organization catering to the needs of orphans and vulnerable children, said, "[Our intern] was everything in that home for us. She taught me many things — to be patient, to look beyond [skin] color. I could see in her an angel… She wrote a proposal and we received funding from a big company in Windhoek to buy food. She made a positive contribution in our lives, and I'm grateful."
For more information on the Center for Global Education at Augsburg, go to www.augsburg.edu/global/.