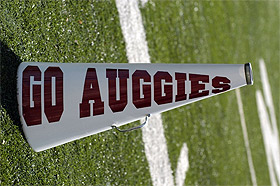 Homecoming is a chance for you to connect with other Auggies, to share memories of the past, and to create new ones. Did you play basketball? Get your former teammates together and come to the Hall of Fame banquet. Did you love your first-year chemistry class? Then you might want to hear Dr. Gyberg speak at Auggie Connections. Did you sing in the choir? Come hear our fabulous Gospel Praise ensemble! Whatever your Augsburg experience, we invite you to come back to campus, see what's new, and share your story with us.
This year, connect with Auggies past and current at the first annual "Auggie Connections" event on Friday evening. And don't forget to show your Auggie pride at the football game against the Oles. Some highlights of the week include:
Monday, September 22
Homecoming Kick-Off Fireworks Display
Approximately 8:15 p.m., Murphy Park
Thursday, September 25
Athletic Hall of Fame Banquet
5:30-8:30 p.m., Christensen Center, East Commons
Friday, September 26
Homecoming Convocation
10-11 a.m., Hoversten Chapel, Foss Center
President's Circle Kick-Off
11 a.m., Christensen Center Art Gallery
Introduction of the President's Circle annual giving society
Homecoming Luncheon
12:30 p.m., Christensen Center Commons
Sabo Center for Citizenship and Learning Colloquium
2 p.m., Hoversten Chapel, Foss Center
The Transformation of Minnesota Politics in the 1970's: People, Policies, and Progressivism. Alumni Martin Sabo '59 and Jim Pederson '56 will lead a conversation among state legislators and others who played a critical role in reforming and transforming Minnesota's political and governmental landscape during the 1970s.
Auggie Connections
4-8 p.m., Oren Gateway Center
Connect with Auggie alumni and friends at this exciting event! See the complete schedule on the website.
Saturday, September 27
Pre-Game Picnic in the Park
11 a.m., Murphy Park
Homecoming Football vs. St. Olaf College
1 p.m., Edor Nelson Athletic Field
Auggie Block Party
3:30 – 7 p.m., 7th Street South between Sverdrup Hall and Lindell Library
All Auggies are invited to conclude Homecoming 2008 at the Block Party! Enjoy live music, brats, games, and more. FREE.