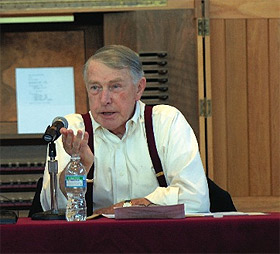 In recent weeks, one of the biggest questions in Minnesota politics was just how big would the state's budget deficit be when Legislators returned to St. Paul in January?
On Thursday, the grim news was delivered: Minnesota is facing a budget deficit of $5.2 billion over the next 30 months because of falling tax revenue from struggling businesses and workers.
That, in turn, leads to another question: how exactly is the state going to deal with it?
The Augsburg College community will be given some insight into this topic on Monday afternoon. That's because the Sabo Center for Citizenship and Learning will host a pair of key Minnesota Legislative leaders for what is expected to be an interesting forum.
Minnesota Speaker of the House Margaret Anderson Kellier and Minnesota Senate Majority Leader Larry Pogemiller will preview the upcoming session of the Minnesota State Legislature in an event moderated by former U.S. Representative Martin Olav Sabo. The event will be held from 4-5:30 p.m. in the Hoversten Chapel.
As soon as Thursday's budget projection was announced, the political maneuvering began.
Because Minnesota has a Republican Governor in Tim Pawlenty at the same time that both the House and Senate are controlled by the Democratic-Farmer-Labor party, reaching a balanced budget agreement may be challenging.
Pawlenty has continued to be opposed to raising taxes to balance the budget. A number of ideas are likely to be considered including the potential privatizing the Minneapolis-St. Paul International Airport and completely starting the budget process from scratch.
Those topics and others are expected to be considered in the 90-minute event that will also include a question and answer session for people in attendance.