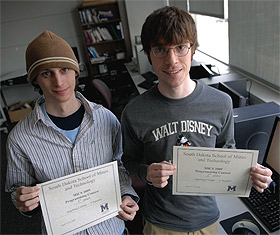 Last weekend, five computer science students and three faculty took a road trip to Rapid City, SD. And no, they did not stop at Wall Drug.
They attended the Midwest Instruction and Computing Symposium held April 17-18 at the South Dakota School of Mines and Technology. The team of senior Erik Johnson (right) and junior Eric Howe (left) won the programming competition and was awarded $250 for themselves and $250 for the department.
Augsburg entered two teams of programmers in the 28-team competition. Teams were given 3 hours to solve 9 problems using computer programs. They wrote code and submitted it to judges who then ran the code to see if it produced the correct output. The teams were evaluated first on how many problems they solved and then on the amount of time they used to complete the tasks.
In a down-to-the-wire finish, Johnson and Howe solved five problems, the same number as another team. At first, it appeared that the other team had won, but Johnson and Howe believed one of their problems was judged incorrectly. They appealed the judges' decision, and won.
Johnson and Howe, who were coached by computer science instructor Erik Steinmetz, placed third last year and set a goal to win this year. To prepare for the competition, they practiced nearly every Monday night this semester using problems from previous competitions.
"These guys did a very good job," Steinmetz said. "They worked hard and certainly came through in the end to win."
Steinmetz said participation in a conference like this looks good on a student's resume, whether he or she is applying for a job or to a graduate program. At this particular conference, students can also submit scholarly papers for presentation, a unique opportunity for undergraduate students.
Because of a strong connection to the natural sciences at Augsburg, Steinmetz said Augsburg's computer science students are fortunate to have the opportunity to conduct research and have their name appear as an author on published papers. "That shows employers and grad schools that they have done more than taking classes," he added.
Also at the symposium, Steinmetz and assistant professor Shana Watters presented a poster and chaired a panel discussion on "Introductory Computer Science Courses that Include Non-majoring and Undeclared Students."
The Midwest Instruction and Computing Symposium is a regional conference dedicated to providing higher education participants an educational experience focused on the integration of computer-based technology in the teaching and learning processes of all disciplines and the incorporation of the study of this technology in the curriculum.