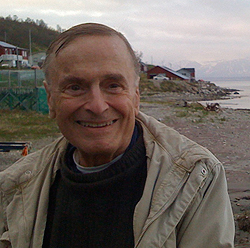 Don Steinmetz, a professor in the Languages and Cross-cultural Studies department, will be remembered by the Augsburg community during a memorial service that will be held February 4 at 4 p.m. in Foss Chapel.
Professor Steinmetz, who taught at Augsburg for 41 years, died of an apparent heart attack on Dec. 28. He was 71. His son, Erik Steinmetz, is a member of the faculty in Augsburg's Computer Science department.
Don Steinmetz joined the faculty in 1968. He served as chair of the department and taught courses in German and Spanish. He also taught Chinese and linguistics within the Associated Colleges of the Twin Cities consortium.
Mary Kingsley, an Augsburg professor emerita, spoke of Steinmetz in a Minneapolis Star Tribune obituary.
"If I ever had a grammar question, he would know the answer," she said. "He knew things so well, and he could make it crystal clear. He made it interesting, and students could see that they had a genius before them."
The Star Tribune obituary can be found here: http://tinyurl.com/y9zjtgu