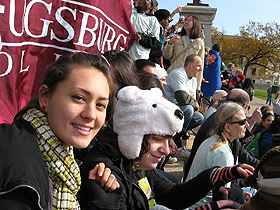 What happens when you combine 50 first-year students, five professors, a gigantic problem, and no traditional grades? In the case of Augsburg's Integrated Term, you get a pretty interesting story.
Here's a quick primer on the iTerm.
For the students in the iTerm and the five faculty members teaching it—Phil Adamo, Lars Christiansen, Robert Cowgill, Lori Brandt Hale and Colin Irvine—this is their entire load of courses for the semester. The focus of the iTerm is on the Fate of the Earth: Food, Fuel and Consumption.
Students who complete the term will receive credit for either English 101 or English 111 (writing), Religion 100 (Christian Vocation and the Search for Meaning I), History 101 (Western Civilization), Sociology 121 (Intro to Human Society) and AugSem. They will also complete their Engaging Minneapolis requirement.
What the students won't receive, however, is a traditional letter grade for the term. Instead, they will receive written evaluations from each of the faculty members teaching the class.
One of the goals is to get students out of the routine of simply working for a grade. Many students learn how to get a good grade rather than learning how to learn. The hope is that this term changes some of that.
"The hope is that students will develop a different attitude toward learning, and even some ability to evaluate their own work," Adamo said. "Hopefully they get to a point where they say, 'Wow, I get it.' And then going into the second semester, they don't retract back like a big rubber band. When you say no grades, students' eyes light up. But no grades does not mean no evaluation."
Because of the unique nature of the program, a reporter from the Minneapolis Star Tribune visited the Augsburg campus and the class several times this month. On Saturday, the story, entitled, "Learning for the sake of learning," was published.