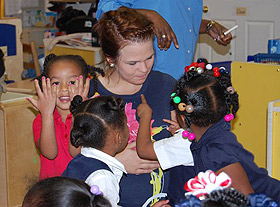 While spring break may have brought a streak of "warm" weather to Minnesota, it certainly could not compare to the warmth experienced by Auggies in New Orleans. Thirty students and staff spent the week in the Crescent City doing service work and experiencing the destruction that remains and optimism that prevails in this remarkable city.
We arrived on March 13 to Camp Restore, a Lutheran volunteer camp that connects volunteers to a variety of service projects in the city. We settled into our bunks in the boxcars at Camp Restore to get ready for the week of work ahead. Throughout the week we painted, put in insulation and dry wall, helped at a horse ranch, and worked with kids.
The Rescue Ranch, run by a woman who was severely affected by Katrina, was especially meaningful for freshman Anika Clark. She explained, "On Saturdays her horses are involved in therapy for juvenile delinquents as they train the horses with specific commands. It really is this type of that work that shows how much one person can make a difference, and shows what faith in the Lord and oneself can lead to."
Sophomore Hien Nguyen said, "Each day there were different projects to be completed, so everyone shifted around a bunch, which gave everyone the opportunity to explore their skills and to work with different people. I definitely got to know a ton of new people that I would never have had the chance to meet."
Though five and a half years have passed since Katrina hit New Orleans and much has been restored, there is still considerable work to be done. One of the workers at Camp Restore took us on a "disaster tour" of the 9th Ward, where there are still many houses that don't look much different than when the water finally subsided. Spray-painted "Xs" mark these houses with the name of the group that checked the house, the date the house was checked, and the number of dead bodies found in it at the time.
The memories of the hurricane also remain vivid to residents who returned to find houses and loved ones washed away. We were blessed by an eighty-year-old woman who shared some of her story with us, and it was penetratingly clear just how devastating Katrina was.
But as with all tragedy, good things and hope do arise. While they do not justify what happened, they do provide a spark for striving for brighter days. For instance, a man told us about two churches, a predominantly white one and a predominantly black one, that were less than kind to one another before Katrina. Afterward, they joined together as one.
Additionally, the culture of New Orleans—from jazz to beignets to jambalaya to art—has prevailed through the storm. One man told us why he thought so many people stayed in New Orleans: "It is a city with a living history that keeps re-generating itself."
It is difficult not to be captured by the richness of this city, and we truly received just as much, if not more, as we gave. We learned from the people of New Orleans and bonded with one another. Freshman Annie Winter said, "I was blessed to meet some amazing people, from both New Orleans and Augsburg. I really do think I made some life long friends and the memories made from this trip will never be forgotten."
Article by Katelyn Danelski