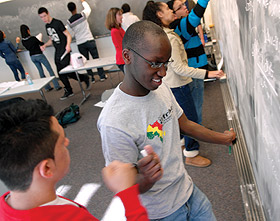 Augsburg College has been selected for a second major gift by The Travelers Companies, Inc., for its Travelers EDGE program: Empowering Dreams for Graduation and Employment. This innovative partnership between Travelers and 10 colleges, universities, and college-readiness programs in St. Paul, Hartford (Conn.), and Baltimore targets areas where Travelers has significant operations and where public schools show low retention and graduation rates for low-income and first-generation students.
Recognizing that the workforce of tomorrow is increasingly made up of growing communities of diverse students who are underrepresented in higher education, Travelers EDGE helps remove barriers for these students to attend college, provides for their financial and academic support to graduate, and offers professional development for them to consider careers in the insurance and financial services industry.
"The Travelers EDGE project lives out our deep commitment to access for underserved student populations, which is so central to the Augsburg mission," said Augsburg president Paul C. Pribbenow. "Our work together can be a model for innovative partnership between the corporate sector and higher education. We're grateful for the opportunity."
Following an initial pilot grant last year, Augsburg recently received a grant of $100,000 for the second year of its Pathways program. Pathways focuses on the recruitment and retention of low-income and first-generation college students from public schools in St. Paul.
The pilot grant enabled College admissions staff to establish partnerships with five St. Paul elementary, middle, and high schools. Beginning at the youngest levels, admissions staff talked to students about the importance of studying hard to learn, and met with parent groups. At middle and high schools, admissions staff worked together with other programs that encourage students to enroll in college prep courses and develop sound study skills.
During the coming 2011-12 academic year, Augsburg Pathways students will have financial literacy training and a career exploration course about the financial services and insurance industry, which is open to all Augsburg students. A summer program for 50 students is planned together with Inver Hills Community College that will focus on transitions from sixth- to seventh-grade and from eighth- to ninth-grade.
Pathways also includes annual scholarships for up to 10 juniors and seniors each year, which include opportunities for job shadowing, mentoring, and text book reimbursement. Current Augsburg sophomores who graduated from St. Paul public high schools are eligible to apply for these scholarships.
Augsburg was selected as a partner in Travelers EDGE because the College has proven success in providing minority students access to a college education. The College has partnered with several college-readiness programs, including Admission Possible, and built a robust, comprehensive program that enables underrepresented students to excel, often beyond their own expectations, and graduate. The second-year Travelers grant includes funding for a part-time Pathways staff position to assist students in the program.
"Travelers looks forward to this second year of our partnership with Augsburg College for the EDGE program," said Michael Newman, vice president of Travelers Foundation. "The College has developed a great program and team, and Travelers is confident going forward that we can do great work together."
"Augsburg already has developed good programs to help students gain access to college," said Julie Edstrom, vice president for enrollment management. "The $5,000 Pathways scholarships will be significant in allowing us to also focus on helping these students stay in school and graduate."