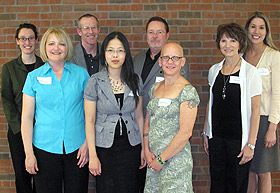 How can corporate leaders optimize their conversation in the workplace? How does a leader's behavior affect a subordinate's commitment to their organization? How can communication efforts improve the satisfaction of part-time workers? These questions and others were topics of graduate student studies in the 14th annual colloquium in the Master of Arts in Leadership program at Augsburg College.
The colloquium serves as a showcase of student creativity, highlighting explorations of every angle of leadership. Students are encouraged to research topics they are passionate about and which they themselves have faced in the workplace.
"I admit that the reason I was first interested in my topic of how a leader's behavior can affect subordinates was that I experienced one of 'those' bosses first hand," said Chris LeDuc as she introduced her topic. Her research showed that leaders' conversations containing "personal consideration" with subordinates had the strongest correlation to workers' organizational commitment.
Scott Brink, who spoke on how local government agencies can adapt more readily to economic climates and technological change, also fashioned his topic from challenges within his work environment. Faced with budget cuts, unfunded mandates, and an exhaustion of areas in which to economize, he was looking for new strategies to apply to his work.
A member of the Augsburg faculty advises each student's project from the creation of the hypothesis to the final paper. Norma Noonan, who has headed the Leadership program for the last 18 years, reflected on the professional level with which students approach their projects. "Leadership skills, specifically regarding vision, persuasion, and action, are addressed in every course. Even though I know our students are receiving this training, it is still quite amazing to see the culmination of this effort at work in students' research projects. Knowing that our students have honed skills that are invaluable to non-profit and for-profit organizations is a rewarding feeling."
Colloquium presenters and their topics:
(Back row)
Lisa Wocken – How Dialogue, Discussion, and Debate Manifest in a Corporate Setting
Scott Brink – Complexity Theory and Local Government Application
Terrance Burns – The Bible and the Ballot: The Christian Right in American Politics
Debra DeRosa – Communication Satisfaction and Part-time Employees in a Park and Recreation Organization
(Front row)
Chris LeDuc – Relationship between Leader Behavior & Subordinate Organizational Commitment in Higher Education Administrators
Mhonpaj Lee – Optimizing Interpreter Services in Hospitals and Clinics
Susan Phillips – Youth Development in the Activism Context: a Case Study of the Wilder Youth Leadership Initiative
Patricia Brill – Innovation Through Social Networking in Communities of Practice
Article by Nancy Shaeffer