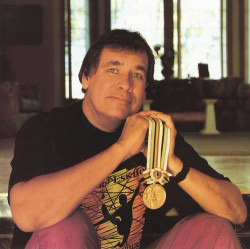 Olympic athlete Billy Mills will speak to 250 Native American students from grades 6-12 at Augsburg on Friday, Jan. 13 as part of Native Youth Visit Day.
"Native youth will have the chance to step foot on a college campus, something that many of these students have never done before," said Jennifer Simon, event organizer and director of Augsburg's American Indian Student Services.
"Students will get a feel for what college is like, and interact with current Native college students with the hope that they will see college is an option for them. We want to implant the idea in their minds that they, too, can and should be college students in the future."
Students are confirmed from a number of metropolitan school districts, including Minneapolis, St. Paul, Robbinsdale, Anoka, Centennial, Osseo and others.
Billy Mills, also known as Makata Taka Hela, is the second Native American to win an Olympic gold medal. He accomplished this feat in the 10,000 meter run at the 1964 Tokyo Olympics, becoming the only American ever to win the Olympic gold in this event. His 1964 victory is considered one of the greatest of Olympic upsets. A former United States Marine, Billy Mills is a member of the Oglala Lakota (Sioux) Tribe.
Schedule of Events (Hoversten Chapel, Foss Center)
9 a.m. Welcome
9:15 a.m. Admissions presentation
9:30 a.m. Campus Tour & Connect with Native American College Students
11:30 a.m. Lunch (Christensen Center)
12 p.m. "Wings of an Eagle," Native American Olympian Billy Mills, who was born and raised on Pine Ridge Reservation in South Dakota, presents a motivational presentation on living a drug-free, alcohol-free life, attending college, and more.
1:15 p.m.  "What is a College Class Like," Eric Buffalohead, professor and chair of the American Indian Studies Department, talks about what students can expect when they get to college.
6 p.m. Community reception (Foss atrium)
7 p.m. "Unity Through Diversity," Native American Olympian Billy Mills (Hoversten Chapel, Foss Center) This event is free and open to the public.