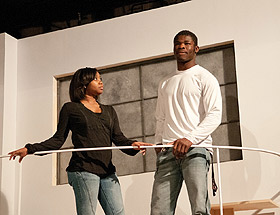 By Wendi Wheeler '06
Imagine writing one play every day for a year. Also imagine the challenges presented to 14 actors each playing several roles in 54 plays presented in one evening. That is the task of the cast of Suzan-Lori Parks' 365 Days/365 Plays, directed by Augsburg theater professor Martha Johnson.
In the fall of 2002, Pulitzer-prize winning playwright Suzan-Lori Parks decided to take on the challenge of writing one play a day for a full year. 365 Days/365 Plays is the successful result, featuring 365 short plays exploring such divergent topics as sex, war, fairy tales, Indian mythology, American historical figures, love, politics, race, contemporary celebrities—and numerous other issues from American life.
In the introduction to the play, a 374-page book that looks like a formidable novel, Parks writes, "The plan was that no matter what I did, how busy I was, what other commitments I had, I would write a play a day, every single day, for a year.  It would be about being present and being committed to the artistic process every single day, regardless of the 'weather.'  It became a daily meditation, a daily prayer celebrating the rich and strange process of a writing life."
This is the first work by an African American playwright to be presented on Augsburg's main stage. Jasmine Gilbert '13, a theater performance major from Minneapolis, said that is precisely why she was interested in the play. "I wanted to be a part of it in any way I could."
Gilbert [shown here with Jackson Mboma] plays the role of Parks. She said performing 54 short plays—some less than one minute in length—has been challenging. "One of the main things is that doing these plays isn't easy because you want the audience to get her point, and you only have a short amount of time to get that across."
Selecting only a portion of the 365 plays presented something of a challenge for Johnson in finding a "frame" for the pieces. The setting for each play is Parks' apartment, and her mind serves as the unifying theme to help the plays connect to one another and to move the audience along through the story arc.
This is the first time that Leah Tillman '13, a psychology major with a theater minor, has been in the cast of an Augsburg play. "So far," she said, "I have learned that what you represent on stage could be interpreted by the audience differently when it comes to performing gender roles, ethnicities, or stereotypes." Tillman said the cast has been very mindful of how their performances might be received by the audience.
Johnson said the production has required a great deal of artistic and logistical discipline from the actors. Usually an actor will develop the details of one character throughout the six- to seven-week period of rehearsal and performance. "This time, they create many characters, have to let go of a character, and support everyone around them through the process."
Both Gilbert and Tillman encourage the community to see the production because of the themes in the play and because it is written by an African American. "We all worked really hard on it, so we want everyone to come out and see it. It was challenging, and we hope our hard work pays off."
About the production:
The plays are organized into two acts, and each act is under an hour. With the intermission, the production is about two hours in length. Some of the plays contain adult language and themes, with some controversial content. 365 Days/365 Plays may not be appropriate for children 12 years of age or younger.
Performances are February 3, 4, 9, 10, 11 at 7 p.m. February 5, 12 at 3 p.m. Tjornhom-Nelson Theater. Click for ticket information