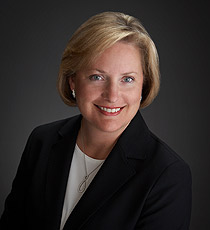 The Clair and Gladys Strommen Executive Speaker Series at Augsburg College will host a free presentation by Sally Smith, president and CEO of Buffalo Wild Wings, from 5 to 6:30 p.m. on Thursday, November 15, in Hoversten Chapel.
The Strommen Executive Speaker Series brings local business leaders to Augsburg's Minneapolis campus to share their insights and expertise.
The series is offered quarterly, and Smith's presentation will feature an exciting twist. Her lecture, "The Buffalo Wild Wings Story: How the Entrepreneurial Spirit of Two Hungry Guys Helped Launch a Restaurant Brand," will be followed by a dinner for presentation attendees to sample wings from the restaurant chain.
Registration required
Augsburg students, faculty, staff, alumni, and their guests must register for this event by November 9. Tickets to attend the dinner will be distributed as registered individuals enter the chapel for the lecture, and the meal will be held in the East Commons following Smith's remarks. The dinner is closed to the general public.
About the presenter
Smith leads one of the United States' fastest-growing national restaurant chains, which comprises more than 840 restaurants in 48 states and Canada.
In 2003, Smith led Buffalo Wild Wings in its initial public offering, which raised more than $50 million and helped fund the company's exceptional growth.
Smith joined the Minneapolis-based company as chief financial officer in 1994 when it was a fledgling chain of 35 restaurants. Smith has worked to establish a sound infrastructure and build the talented team required to grow the company from a regional chain to a thriving national brand.
Smith's exceptional achievements and leadership were recognized by the restaurant industry in 2010 when she received the Operator of the Year Award from Multi-Unit Foodservice Operators. She also was honored in 2009 with one of the industry's highest honors, the Gold Plate Award, presented by the International Food Manufacturer's Association.
Smith has also earned Minneapolis/St. Paul Business Journal's Women in Business Career Achievement Award for 2010; Restaurants & Institutions magazine's Restaurant Executive of the Year in 2005; Nation's Restaurant News' Golden Chain Award in 2003; and Ernst & Young's Entrepreneur of the Year award for the Midwest Region in 2001.
Prior to joining Buffalo Wild Wings, Smith held positions at the international accounting and consulting firm, KPMG LLP, and the national franchise company, Dahlberg, Inc.
A native of Grand Forks, N.Dak., Smith is a graduate of the University of North Dakota with a bachelor of science degree in business administration and accounting, and she is a certified public accountant. She served as the 2011 chairman of the National Restaurant Association Board of Directors. She is a director of Alerus Financial Corporation, and she also is a member of World Presidents' Organization and Women Corporate Directors.
—
Convocation Hashtags
Share your Strommen Executive Speaker Series experience using social media. The hashtag for the series is #AugStrom.