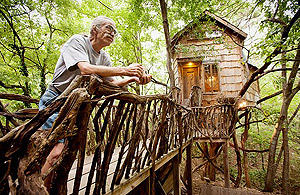 Dan Phillips has found that uncommon materials, unimpeded creativity, and a unique approach to environmentalism can form a solid footing on which to build a house—and a business.
As this year's Humanities and Fine Arts Convocation speaker, Phillips will describe his role as a designer, a homebuilder, and the founder of the Phoenix Commotion, a company that constructs beautiful, whimsical houses out of reused or recycled materials.
His presentation, "Recycled Housing: Adventures in Human Sensibilities," will take place Wednesday, November 7, at 10 a.m. in Hoversten Chapel.
The Phoenix Commotion
Phillips and the Phoenix Commotion have built houses for low-income families out of 90 percent repurposed supplies for more than a decade. In these homes, non-traditional materials marry aesthetic appeal with essential utility: license plates can replace shingles for roof tiles and wine corks can form a mosaic floor covering.
According to its website, the Phoenix Commotion is a "building initiative created to prove that constructing homes with recycled and salvaged materials has a viable place in the building industry."
Phillips is "freed, by necessity, from what he calls the 'tyranny of the two-by-four and four-by eight,' common sizes for studs and sheets of plywood," according to The New York Times' article, One Man's Trash….
Phillips is a self-taught carpenter, electrician and plumber, but the cross-disciplinary nature of his business means that he's also an environmentalist, artist, social entrepreneur, and historian.
"Dan is not only one of the smartest and most talented people I know, he is also an amazing storyteller with a very down-home and humorous approach," Phil Adamo, associate professor and chair of the History Department, said. "Hearing Dan speak is what it must have been like to hear Mark Twain give a lecture."
Adamo anticipates that key messages from this year's Humanities and Fine Arts Convocation will resonate with a wide audience on the Augsburg campus. The presentation will have all of the liberal arts "packed in," according to Adamo. "Who knew that a talk about building houses from recycled materials would include references to the history of the Italian Renaissance and the Industrial Revolution?" he said. "Or that Dan's design concepts make reference to the philosophical writings of Plato and Nietzsche and Jean-Paul Sartre?"
Social entrepreneurship, art, and the environment
Through the Phoenix Commotion, Phillips puts his theories on eco-friendly design and housing affordability into practice. The company addresses four social issues in the United States, which include reduction of landfill burden, low-income housing, training unskilled labor, and interim financing. Each home's future owner works alongside Phillips and novice laborers who—through building—learn marketable skills.
"By keeping labor costs low and using donated or found materials, the homes created are truly affordable," according to the Phoenix Commotion website. "No two are alike due to the myriad materials used, so there is an artistic element that makes Phoenix Commotion homes unique." And, the homes' owners become "empowered, not only by the useful knowledge of building skills, but by the opportunity to become part of a community as a vested participant."
During his visit to Augsburg, Phillips will talk with art students about design, with environmental studies students about sustainable building practices, and with Master of Business Administration (MBA) students about social entrepreneurship.
Phillips is a "perfect example of a social entrepreneur," according to Bruce Batten, director of the Augsburg MBA program. "He's created an innovative and sustainable for-profit business model that addresses several important social issues….
"The company helps to reduce the burden on landfills and trains unskilled labor by using an apprentice program. [Phoenix Commotion] offers a great lesson in how a social enterprise can be run like a business and yet serve a greater good than just profits."
John Zobitz, assistant professor of mathematics and director of environmental studies, sees Phillips' presentation as an opportunity for his students to critically examine the natural world and the paradigms that define humans' relationship to it.
"'Reduce, reuse, recycle' is a common saying we are taught in primary education as a way to reduce our impact on the environment," he said. "We typically put this saying into practice by disposing and sorting our waste in appropriately labeled containers, carted away and out of sight. This is one-way action, and with it, we become disassociated with the very spirit of the 'three R's.'
"The work of Dan Phillips provides a way forward and challenges existing paradigms that waste cannot be reused. It can be practical, functional, and aesthetically pleasing. By these actions, [Phillips] honors the true spirit of reduce, reuse, recycle."
Humanities and Fine Arts Convocation Event Schedule
November 7 | Hoversten Chapel
9:55 a.m. – The Augsburg Percussion Ensemble, directed by Matthew Barber, performs "Stinking Garbage" by Ed Argenziano
10 a.m. – Dan Phillips presents "Recycled Housing: Adventures in Human Sensibilities"
Convocation Hashtags
Share your convocation experience using social media. The hashtag for the Humanities and Fine Arts Convocation with Dan Phillips of the Phoenix Commotion (@phxcom) is #HFAConvo.
Consider:
How can something as common as housing and construction be based in the liberal arts?
What can you do to save the planet? How does knowledge of art and philosophy and history help you do that?