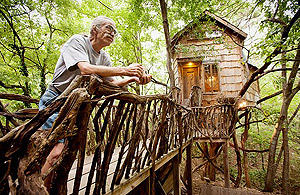 Dan Phillips has found that uncommon materials, unimpeded creativity, and a unique approach to environmentalism can form a solid footing on which to build a house—and a business.
As this year's Humanities and Fine Arts Convocation speaker, Phillips will describe his role as a designer, a homebuilder, and the founder of the Phoenix Commotion, a company that constructs beautiful, whimsical houses out of reused or recycled materials.
His presentation, "Recycled Housing: Adventures in Human Sensibilities," will take place Wednesday, November 7, at 10 a.m. in Hoversten Chapel.
The Phoenix Commotion
Phillips and the Phoenix Commotion have built houses for low-income families out of 90 percent repurposed supplies for more than a decade. In these homes, non-traditional materials marry aesthetic appeal with essential utility: license plates can replace shingles for roof tiles and wine corks can form a mosaic floor covering. Continue reading "Humanities and Fine Arts Convocation features Dan Phillips" →