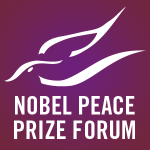 MINNEAPOLIS – The 26th annual Nobel Peace Prize Forum – a conference that celebrates Nobel Peace Prize laureates, international and national leaders – continues March 7-9 in Minneapolis. The Forum, which explores issues related to business, arts, music, education, and global issues, kicked off on March 1 with His Holiness the 14th Dalai Lama.
March 7 – Law and Business Day. Keynote presentations, that include a moderated discussion, are:
9-10:30 a.m.: Michael Posner, professor of business and society at New York University, will discuss human rights protections in global business operations and the manufacturing supply chain, extractive industries, and the information and technology sector.
3:30-5 p.m.: Ian Bremmer, founder and president of Eurasia Group, a global political risk research and consulting firm, will talk about how global political risk impacts political developments and national security dynamics throughout the globe.
March 8 – Science and Health Day. Keynote presentations, that include a moderated discussion, are:
9-10:30 a.m.: Dr. Deane Marchbein of the Peace Prize-Winning Doctors Without Borders/Medecins Sans Frontieres and who will talk about the impartial, international medical work of the organization.
3:30-5 p.m.: Dr. William Foege, best known for his work to eradicate smallpox during the 1970s and who has served as Director of the Centers for Disease Control, will talk about global health and its impacts on peace, and epidemiological tools for studying peace.
7-9 p.m.: Mason Jennings is the featured musical guest. The nationally acclaimed singer-songwriter will explore the intersections of peace and creative expression.
March 9 – Global Day. Keynote presentations, that include a moderated discussion, are:
12-1:30 p.m.: The value and success of the Nobel Peace Prize will be debated by Geir Lundestad, director of the Norwegian Nobel Institute which awards the Prize, and Jay Nordlinger, editor of the National Review.
4:15-5:45 p.m.: 2011 Peace Prize Laureate Leymah Gbowee, the Liberian peace and women's rights activist who founded Liberian Mass Action for Peace to support women during times of war and who inspired the documentary Pray the Devil Back to Hell, will talk about her work in nonviolent struggle.
All keynote presentations, except Jennings, are at Ted Mann Concert Hall at the University of Minnesota. Jennings will present in the intimate setting of Augsburg College's Hoversten Chapel. Tickets at peace.augsburg.edu.
The NPPF is a premier international event designed to inspire peacemaking. Now in its 26th year, the Forum celebrates the work of Peace Prize Laureates and deeply explores questions of peace and conflict. This year's Forum addresses issues in law and business, health and science, and global issues. The program is housed and coordinated by Augsburg College in partnership with the University of Minnesota Humphrey School of Public Affairs and the School of Public Health, and the five Norwegian Lutheran colleges of Augsburg, Augustana College (Sioux Falls, SD), Concordia College (Moorhead), Luther College (Decorah, IA) and St. Olaf College (Northfield). The Forum's corporate sponsors include Thomson Reuters.