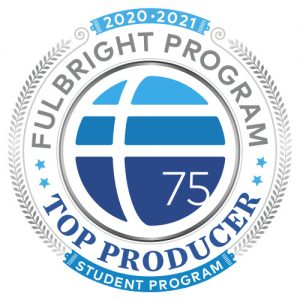 Augsburg University has again been named a top producer of Fulbright students among U.S. master's institutions for 2020-21. Each year the U.S. Department of State's Bureau of Educational and Cultural Affairs announces the top producing institutions for the Fulbright Program, the U.S. government's flagship international educational exchange program. The Chronicle of Higher Education publishes the lists of top producers of Fulbright U.S. scholars and students annually.
Five Augsburg students received 2020-21 Fulbright awards to teach English in four countries. The students are Winni Godi '17 (Rwanda), Abdulkadir Sharif '20 (Malaysia), Eh Soe Dwe '20 (Malaysia), Natalya Arevalo '20 (Honduras), and Bethany Lor '19 (South Korea).
The Fulbright competition is administered at Augsburg through the Office of Undergraduate Research and Graduate Opportunity. 
The Fulbright Program was created to increase mutual understanding between the people of the United States and the people of other countries. Students can teach English, participate in graduate study, or conduct research. Fulbright is the world's largest and most diverse international educational exchange program. The primary source of funding for the Fulbright Program is an annual appropriation made by the U.S. Congress to the U.S. Department of State's Bureau of Educational and Cultural Affairs. 2021 marks the 75th anniversary of the Fulbright Program. 
About Augsburg
Augsburg University offers more than 50 undergraduate majors and 11 graduate degrees to 3,400 students of diverse backgrounds at its campus in the vibrant center of the Twin Cities and nearby Rochester, Minnesota, location. Augsburg educates students to be informed citizens, thoughtful stewards, critical thinkers, and responsible leaders. An Augsburg education is defined by excellence in the liberal arts and professional studies, guided by the faith and values of the Lutheran church, and shaped by its urban and global settings. Learn more at Augsburg.edu.