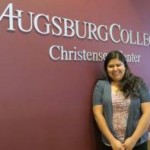 AchieveMpls, a Minneapolis-based nonprofit supporting high schoolers, featured Gabriela Monge Lagunes '15 in an article about her success as a student and an advocate.
Monge Lagunes, who is a first generation college student, says she has teachers to thank for catapulting her into college and supporting her once admitted.
AchieveMpls is a nonprofit organization started in 2002 by Twin Cities education, business, government, and civic leaders. The organization aims to bridge the gap between high school and college, better preparing students for success.