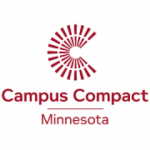 The Minnesota chapter of Campus Compact, an organization that supports civic engagement and democratic renewal across college campuses, recently published an article about Augsburg College's proactive approach to supporting Muslim students and the local Muslim community.
Following inflammatory statements made by high-profile politicians and presidential candidates about the Muslim community, the Augsburg College faculty passed a resolution declaring their "deep support, love and friendship for the Muslim members of our campus, community and world." The Campus Compact article states that, "Faculty and staff at the college make this commitment real through myriad practices and partnerships."
Included in those partnerships is the work that the College has done with Sisterhood Boutique, a "second-hand clothing store and youth social entrepreneurship program developed by young women, a majority East African and Muslim, living in the Cedar-Riverside neighborhood of Minneapolis." Augsburg faculty members — such as Assistant Professor of Business Marc Isaacson — have engaged their students in projects to support the boutique.
Read: In Word and Deed: Augsburg College in Support of Muslim Students, Colleagues, Neighbors on the Campus Compact site.