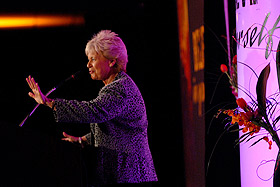 What would compel a Texan to travel to Minnesota in February? It's safe to say she didn't know about Minnesota winters or that February is still very much winter in the state. But it's also true that she came to Minnesota to help a friend and because she believes in the work of the StepUP Program.
Kitty Harris, the associate dean of outreach and engagement in the College of Human Sciences at Texas Tech University, was the keynote speaker at last weekend's StepUP Gala. Harris and Augsburg's StepUP Program director, Patrice Salmeri, are not only colleagues but also friends who have led their respective collegiate recovery programs since they filled the "big shoes" of their predecessors nine years ago.
Harris addressed the crowd of nearly 400 gala attendees on the subject of belief. She said, "Recovery calls us to become who we are meant to be and to do what we were called to do." She added, "To believe in yourself means believing in the miracle of second chances," and she encouraged students to believe that they could be a beacon of light for others.
Since it was founded in 1997, Augsburg's StepUP program has given a second chance to young people, helping them find success in college and become who they were meant to be. The program has grown from 23 students in 1997 to 74 students, and in the fall of 2010, StepUP welcomed 25 new students and 49 returning students.
The annual gala, which includes silent and live auctions, raised more than $100,000 to support the StepUP program and endowment. This year Wheelock Whitney was honored at the gala with the presentation of theToby LaBelle Award.
Augsburg's program is serving as a model for two other Minnesota colleges. Both the College of St. Scholastica in Duluth and St. Cloud State University are considering the creation of a collegiate recovery community.
Want to see more? Check out the gala photos on flickr.