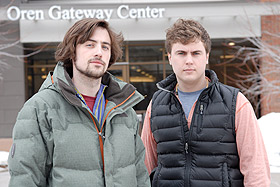 For these young men, the story isn't about getting sober, staying sober, or even about climbing a mountain. It's about second chances and taking chances.
Tommy Chester and Andy Thomas [left to right] are both first-year students in Augsburg's StepUP® Program. Both tried to go to college twice and failed miserably they say, and both were scared to go to treatment for their addiction. Today they're using the second chance they've been given to help others, specifically by climbing to the summit of Mt. Rainier.
"One night we were talking about what we like, what's important to us, and about the concept of vocation brought up in our religion class," Chester says. They also talked about their own fears related to recovery and about how treatment programs, which can be very expensive, are difficult for many individuals and families.
While they were together at Gray Wolf Ranch in the Pacific Northwest, they started a project named Summit for Sobriety. Their project ultimately led them to the 4806 Foundation, an organization that provides funding to young people seeking recovery from substance abuse.
Thomas and Chester both enjoy the outdoors and have active lifestyles, but their hobbies and interests took a back seat to their addiction in the past. Thomas says, "When I was active in my addiction, I would walk across the city without shoes in a snowstorm to buy drugs."
Now, he applies that same tenacity to his recovery and is willing to "go to any lengths" to maintain his sobriety. This summer, the young men will load up their gear and hike to the summit of Mt. Rainier, but their ultimate goal is to raise $25,000 to support the 4806 Foundation. They see this project as an opportunity to do something they enjoy while supporting an important cause.
In addition to raising money, Thomas and Chester want Summit for Sobriety to show young people that a life in recovery can be rewarding. "I didn't know anything about recovery," Chester says, "and I thought 12-step programs were for hardcore bums in the street." He hopes the example of his life will show others that "fairly normal" people can recover from addiction and enjoy their lives without alcohol and drugs.
Both of the men say they don't want this story or this project to be about them. "For us this is about helping people," Thomas says. They know that an important part of staying sober is being of service to others. "We're willing to take the leap so others know that the gift of recovery is possible."
"This whole thing," says Chester, "is about taking a big chance."